Unrivalled durability, flexible business customisation options and high performance
BRACKNELL, UK. 8TH JUNE 2016
Panasonic today introduced its latest fully rugged 10.1 inch Android tablet to Europe's leading automotive industry representatives gathered to discuss the changing industry landscape and new technologies at the Panasonic Automotive Innovation Summit in Barcelona. With its fully rugged durability, flexible business customisation options and top performance, the Panasonic Toughpad FZ-A2 tablet is an ideal mobile device for automotive workshop receptions and showrooms. In addition, the device is equally suited for professionals working in the retail and hospitality industry for point of sale and order taking and for mobile workers needing fast access to documentation in the field.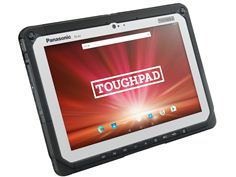 FZ-A2mk1
Powerful, rugged and user friendly
The Panasonic Toughpad FZ-A2 fully rugged tablet, succeeding the FZ-A1, is lightweight (880g) and slim (16.4mm) with a fanless design and runs the latest Android 6.0 Marshmallow operating system with Enterprise Security from Android for Work. It is equipped with the latest, more powerful Intel® Atom™ x5-Z8550 Quad Core processor (2 MB cache, 1.44GHz up to 2.4GHz) with 4GB RAM and a 32GB eMMC.
Viewing clarity inside or out
The 10.1 inch outside viewable display (1920x1200), with high visibility (800cd/m2), has been designed for easy use and clarity of vision both outside and indoors. The 10-point capacitive touchscreen display can be used by hand, gloved hand or with the capacitive stylus pen for accurate annotation or signature collection even in the rain.
Rich business functionality
The Panasonic Toughpad FZ-A2 tablet also comes with a rich set of customisable business interfaces and wireless connectivity options to tailor the device to exact business requirements. Alongside a full range of business features (1xUSB 3.0 Type A, 1xUSB 3.1 Type C OTG, 1xHDMI and 1xMicro SD, GPS), optional smartcard reader, 2D barcode reader and 4G can be specified. The USB 3.1 Type C OTG port for reversible connection comes with transmission speeds of up to 5Gbps, power charging (up to 5V 900mA - USB PD is not supported) and USB On The Go functionality for easily copying and transferring files from one Android device to another.
The Toughpad FZ-A2 is optimised for connectivity whatever the location and includes the latest WLAN 802.11ac Intel® Dual Band® Wireless-AC 8260 technology for the fastest data transfer and Bluetooth® v4.2 class 1.
Easy to manage
For increased manageability, the device includes Google Android for Work allowing separate work and personal profiles to be included on the device. It provides IT administrators with flexibility and enterprise security whilst ensuring users have private access to their own personal applications and data. Google Android for Work also includes a range of built-in productivity tools for everyday tasks such as email, contacts and calendar.
"This latest addition to our wide range of Android Toughpad tablets from 4.7 inch to 10.1 inch underlines our commitment to offer businesses easy to manage and easy to use mobile devices that can be customised to specifically meet the needs of their IT systems and workforces. The Toughpad FZ-A2 tablet, with its flexible functionality and range of connectivity options, is perfectly suited for use in automotive workshop receptions or in the busy hospitality and retail sectors,' said Jan Kaempfer, General Manager of Marketing for Panasonic Computer Product Solutions.
Battery to last
The Panasonic Toughpad FZ-A2 tablet has a user-removable battery with a nine hour working life to match the needs of the work shift with an optional hot swappable battery capability for when around the clock usage is required.
Cameras and fast communications
For users needing live video conference capabilities or to capture photographic images of documentation in the field, the FZ-A2 is equipped with Full HD front web and 8MP rear camera with flash. It also comes equipped with built-in directional array microphones ideal for communication, video conferencing and voice recognition software.
Work tough
Built for use on the move and for the rigors of business, The Toughpad FZ-A2 is fully ruggedised with magnesium alloy, is drop tested to 1.2m*, comes with an IP65 ingress protection rating for resistance to dust and water and will operate effectively in temperatures ranging from -10 to +50°C*.
At launch, the device will come with a rich ecosystem of peripherals from desktop cradle to 4 bay battery charger, most sharing compatibility with the rugged Panasonic Toughbook CF-20 notebook with detachable tablet.
The device will also have the option of two vehicle docks – a slimline and expanded version depending on the device configuration. These lightweight and compact docks, with a VESA 75mm mounting pattern and pinch latch mechanism for quick release, are designed and manufactured by Panasonic's own Global Docking Solutions business. Available in Keyed Alike and Keyed to Differ versions to match ease of use or security priorities, the docks will include 2 USB 2.0, 1 LAN, 1 DC in ports and optional Dual Antenna Pass Through.
Availability and pricing
The Toughpad FZ-A2 will be available from July 2016 at a starting price of £939 + tax. For further information, visit: www.toughbook.eu
* Tested at Panasonic Factory
** Measured at LCD brightness: 150 cd/m². Varies depending on the usage conditions, or when an optional device is attached.
Press contact:
Michael Bartley
The Amber Group
michael@ambergroup.net
+44 (0)118 949 7750
About Panasonic System Communications Company Europe (PSCEU)
PSCEU is the European branch of Panasonic Systems Communications Company, the global B2B division of Panasonic. PSCEU's goal is to improve the working lives of business professionals and help their organisations' efficiency and performance. We help organisations capture, compute and communicate all sorts of information: image, voice, and textual data. Products include PBX telephone switches, document printers, professional cameras, projectors, large visual displays, rugged mobile PCs and fire alarms solutions. With around 400 staff, engineering design expertise, global project management capability and a large European partner network, PSCEU offers unrivalled capability in its markets.
PSCEU is made up of four product categories:
Communication Solutions, including professional scanners, multifunctional printers, telephony systems and SIP terminal devices.
Visual System Solutions, including projectors and professional displays. Panasonic offers the widest range of Visual products, and leads the European projector market with 28% revenue share. (Futuresource B2B market tracking, Q1/2014)
Professional Camera Solutions, including Broadcast & ProAV products, security, fire alarm systems and industrial medical vision (IMV) technology. Panasonic is one of the top two professional camera vendors in Europe.
Computer Product Solutions helps mobile workers improve productivity with its range of Toughbook rugged notebooks, Toughpad business tablets and electronic point of sales (EPOS) systems. As European market leaders, Panasonic Toughbook had a 66% revenue share of sales of rugged and durable notebooks and Panasonic Toughpad held a 59% revenue share of sales of rugged business tablets in 2015 (VDC Research, March 2016).
Disclaimer:
All brand names shown are the registered trademarks of the relevant companies. All rights reserved.
All working conditions, times and figures quoted are optimum or ideal levels and may differ as a result of individual and local circumstances.
Specifications, product availability and price given herein may be changed at any time without prior notice.
Android, Google, and other marks are trademarks of Google Inc.