Mobixell survey finds 74% of mobile users see operators as responsible for poor video experience
SAN JOSE, CALIFORNIA – January 31st, 2012 – A broad survey of mobile phone users conducted for Mobixell Networks by On Device Research, indicates that 74% hold operators most responsible for their video stalling, buffering or taking too long to start when streaming over their mobile network. In light of the sharp increase in mobile video consumption forecast for the coming years, this revelation should raise serious concerns among mobile operators as they find it more and more challenging to ensure a satisfying mobile video experience for consumers with increasing expectations.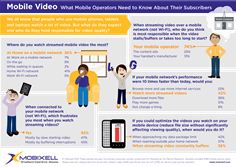 Subscribers Hold Network Operators Responsible for Mobile Video Quality
According to the survey, which polled over 1,000 mobile phone users, consumers themselves predict a dramatic increase in their data usage as mobile networks move from 3G to 4G/LTE. The survey found that a total of 91% would browse and use more Internet services, watch more streamed videos, play more games, or download more files if their network performance was 10 times faster than it is today.
As mobile video consumption rises faster than the rate of network capacity expansion, network congestion is more likely to lead to an increase in both browsing interruptions and inconsistent video streaming. The survey found that slow browsing speed would cause 43% of respondents to consider switching operators, while another 24% said that buffering and poor video quality would cause them to consider switching. Further, 47% of mobile users said they are frustrated when video takes too long to play and 45% are most put off by non-continuous, interrupted play.
"This survey highlights the importance that mobile subscribers attribute to video quality and the steps they would consider taking when it is unsatisfactory," said Noam Green, VP marketing at Mobixell. "New mobile devices and 4G networks will further inflate mobile data demand and, therefore, congestion, in the coming years. To continue to meet user expectations for continuous, no-buffer video, operators are embracing video optimization with real-time congestion prediction."
All indications point toward always on, always-there mobile devices becoming the preferred way for mobile subscribers to stream video, even when wired broadband or Wi-Fi connections are available. In fact, 36% of survey respondents claimed that even at home they stream video using their mobile network. Mobixell plans to track this and other mobile data consumption trends in a follow-up survey later this year.
For an eye-opening demonstration of how video optimization can dramatically improve mobile video performance while causing virtually no visible loss of viewing quality, visit http://www.mobixell.com/VO_demo.
For an infographic snapshot of the mobile video survey results, visit www.mobixell.com/survey.
- ENDS -
Notes to Editors
About the survey
The survey was carried out for Mobixell on behalf of On Device Research, who surveyed 668 UK respondents and 420 French respondents directly on the mobile internet. It divided the responses into those who do stream video (849) and those who do not (239) and by the type of device they own (smartphone vs. non-smartphone) as well as further breakdown by operator.
For more information about On Device Research, see http://ondeviceresearch.com/.
About Mobixell:
Mobixell Networks Mobixell provides intelligent mobile Internet solutions to mobile operators that optimize data networks and maximize data profitability. Mobixell's flagship product, Seamless Access, enables mobile operators to intelligently manage, optimize, and monetize the surging mobile data and video traffic while giving subscribers an exceptional user experience. Mobixell has more than 400 deployments, including Verizon, Vodafone, Bharti, Orange, and Telefonica, providing specially adapted services in Mobile Video and TV, Mobile Internet and Broadband, and Mobile Messaging. Founded in 2000, Mobixell is a US-based company with additional offices in the UK, Germany, Switzerland, India, China, and Israel.
For more information, visit:
http://www.mobixell.com
http://www.mobixell.com/blog
http://twitter.com/mobixell
For further information
Patrick Smith Joshua PR for Mobixell
Tel: +44 7734 600553
Email: patrick.smith@joshuapr.com