Local authorities pick up Socitm awards for use of Weejot.com to publish mobile apps
Leicester, UK (December 12, 2012) – Socitm, the member association for ICT professionals working within local authorities and the public sector, awarded Suffolk County Council's 'Mobile Hack Day' the Digital Engagement award at its annual conference in Birmingham on Wednesday 28 November 2012. On the same night, Manchester City Council's 'Top Tasks' mobile app picked up the award for Digital Innovation.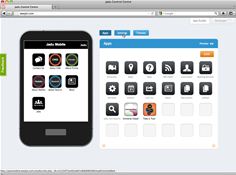 Weejot AppStudio
Utilising Jadu's Weejot.com mobile app publishing service, Suffolk County Council's Hack Day brought together over 60 local enthusiasts and programmers to develop mobile applications to improve the way in which County Council services are accessed. The day's 17-year-old winner was also employed as part of Jadu's mobile apps team.
Manchester City Council used Google Analytics to identify its most sought after web services before utilising Weejot.com to design apps to access everyday services such as libraries, recycling and council tax payment.
"It's great to see two councils using Weejot.com receive recognition for their innovative use of mobile app technology. We're delighted to be supporting their journeys in revolutionising engagement with their communities," said Suraj Kika, CEO of Jadu.
Weejot.com enabled both Suffolk and Manchester to develop cost effective mobile app solutions as an alternative to potentially costly native app development and provisioning through app stores, such as Apple's App Store or Google's 'Play' Marketplace.
"The fact that our web initiatives have been recognised by Socitm demonstrates how easy it is for residents to use the site, enabling them to access services and find essential information. Receiving this award is great recognition for all the hard work that's been put in," commented Councillor Nigel Murphy, Manchester City Council's executive member for the environment.
Mark Adams-Wright, Chief Information Officer at Suffolk County Council added, "The current financial climate makes it more important than ever to think outside the box and produce innovative solutions."
Suffolk County Council was the first local authority to purchase the Weejot.com service using the Government's new G-Cloud 'Cloudstore'. For further information visit www.weejot.com
-- ENDS --
Notes for Editors
Image of Weejot AppStudio:
http://www.jadu.net/download/28/jpg_format_screenshot_of_the_weejot_appstudio
Suffolk's Weejot mobile website
http://suffolk.weejot.com
Manchester's Weejot mobile website
http://manchester.weejot.com
About Jadu
Jadu is a leading global provider of Web Experience Management software, specialising in CMS, Forms, Search and Mobile for enterprise websites, intranets and extranets. Jadu powers hundreds of government, education and private sector organizations across the world and is a leading innovator in providing customers with the tools needed to simplify and empower the multi-channel web publishing and management process. Jadu recently launched the www.weejot.com mobile app publishing service, which provides a SaaS platform for delivering mobile apps in real-time.
For more information visit: www.jadu.net and www.weejot.com