Sulake delivers rapid response as leadership and staff work round the clock to deliver world-first safety solutions for Habbo community

Unprecedented user response as thousands of muted Habbos hold silent candle-lit vigil

CEO announces "The Great Unmute" – a chance for the user community to have their say and shape the future of the company

CEO welcomes Channel Four investigation but tells reporters "Stop targeting our teens"
Helsinki, Finland – June 15th, 2012 - Sulake CEO Paul LaFontaine today spoke out about the challenges facing his company and a poorly regulated industry:
"I would like to take this opportunity to reassure the many concerned parents who have been following the news in recent days. Our commitment to the future of the Habbo community is also a commitment to working with the parents of our site users. We believe that a comprehensive safety programme can only be delivered by close collaboration with users and parents together.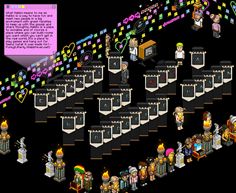 Habbo users protest
"As soon as we saw the Channel Four News report on Tuesday evening, we took the decision to mute all conversations across the site. This has had a massive business impact, but the safety of our users is non-negotiable. We must maintain our focus on the quality of interaction within the Habbo community, and not the quantity of visits we receive.
"Since conversations on the site were muted, we have experienced an unprecedented online response with thousands of loyal users remaining active on the site, holding a silent candle-lit vigil to express their support for Habbo. During this time, senior management and world leading technologists are working tirelessly in our Helsinki headquarters to ensure that we deliver the best possible protection to the millions of teenagers and young people who regularly visit our site.
"We want to work with our users to define and deliver a fully protected environment as well as a creative user experience. That's why I am announcing 'The Great Unmute'. It's going to provide a chance for our users to create a conversational tidal wave, telling us what they want and showing the world that our global community contains millions of responsible and proud users who have a positive experience on our site. More details will follow in the coming days.
"We would like to thank Channel Four for initiating a global debate around this incredibly serious issue. It has provided a global wake-up call for both my company and our poorly regulated industry and we fully intend to actively participate in finding a regulatory solution that will protect our users and ensure the long-term reputation and future of the social gaming community.
To view Paul LaFontaine's full statement, please visit: http://www.sulake.com/blog/entries/news-and-views-from-paul-lafontaine/
About Habbo Hotel and Sulake
Habbo Hotel is the world's largest social game and community for teens. Users join by creating a fully customized online character called a Habbo. From there, they can explore wide variety of spaces and millions of rooms created by other users in the community, play a variety of games, connect with friends, decorate their own rooms, and have fun through creativity and self expression. Currently Habbo Hotel has customers in over 150 countries and the service is available in 11 language versions. To date, over 268 million characters have been created and 9 million unique users worldwide visit Habbo Hotel each month, spending a total of 45 million hours in the service.
Habbo Hotel is operated by Finnish company Sulake. With offices in 4 countries and headquarters in Helsinki, Finland, the company currently employs some 160 employees worldwide.
www.habbo.com
www.sulake.com