Quiet Mark and Lexus data reveals four in ten are stressed by noisy environments and more than a quarter say noise dramatically affects productivity
(Brighton, UK – October 2, 2012) - A national survey from Quiet Mark, a trading arm of the charity Noise Abatement Society set up in the 1960's by passionate campaigner John Connell OBE, and car manufacturer Lexus, shows that nearly 90 per cent of people in Britain find it important to get a little bit of peace and quiet during a busy day with more than a quarter (27%) saying that noise dramatically affects their productivity at work.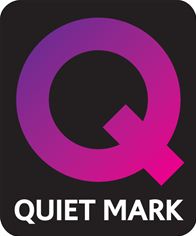 Quiet Mark Logo
At the same time, more than 40 per cent of adults say that noisy environments make them feel more stressed and the survey also reveals that nearly half of drivers find a little moment of peace in their cars.
Quiet Mark has published a white paper today that explains the survey results in detail.
Findings:
Nearly four in five UK adults (88 per cent) think that it is important to "get a little bit of peace and quiet during a busy day".

79 per cent of UK adults get "a peaceful moment" in their home.

Nearly half of UK driver (49 per cent) find a little moment of peace in their cars.

Nearly half of UK adults (47 per cent) would like to have time to have "a bit of peace and quiet".

More than four out ten UK adults (42 per cent) find that noisy environments "make me feel stressed".
Quiet Mark, whose headline sponsor is Lexus, was launched this January to support and stimulate manufacturers to design quieter products, with the aim to improve the quality of lives and create a healthier environment for all.
The survey is statistically relevant, with a sample size of 2,037 across all adult age groups, regions, social classes, working status and relationship status. It was conducted to learn more about how people in the UK and Scotland view the issue of noise and their feelings about having peace and quiet.
Poppy Elliott, Managing Director of Quiet Mark says: "Quiet products can improve health by reducing stress levels and improving relationships both at home and at work. The 'social return on investment' for both manufacturers and consumers is inestimable but in commercial terms, the development of quiet products makes sound business sense because these fulfil a rapidly growing market need. Consumers are now recognising that the noise of the appliances they live with should be an important consideration when making their purchases.
"People in Great Britain clearly have a strong emotional attachment to the reduction of noise in their daily lives; sound affects us deeply, from the tone of our voice, to the sound of machines which surround us. There is now an understanding that quiet is a very desirable lifestyle choice.
"Every day we are surrounded by an orchestra of brilliant technology that often dominates with high-volume noise; Quiet Mark identifies the quieter high-performance products and solutions available bringing expert advice and guidance on the sound of a machine, helping to make a positive contribution to the soundscape of our lives"
"If we all start with small practical steps choosing to 'Buy Quiet', we can literally make the world a more peaceful place for everyone. Buying quieter products and cars can benefit our health, productivity, and relationships."
"It is also interesting that we find sanctuary in our cars, a discovery that shows that manufacturers who design quieter cars are helping to reduce driver stress on a daily basis, which will have great universal benefit"
Paul Marshall, Lexus General Manager, Strategy and Marketing, commented, "A quiet and refined drive is a fundamental part of the Lexus experience across our range of vehicles, from the CT 200h compact full hybrid, to the LS 600h limousine. It is encouraging to see that quietness is something that is valued, and we will continue to strive in our future models to provide a quiet, refined solution to the market."
Notes to editors
About the survey
Quiet Mark and Lexus commissioned YouGov to conduct a statistically relevant survey focusing on issues of noise, peace and quiet in Great Britain. Total sample size was 2037 adults. Fieldwork was undertaken between 27th-30th July 2012. The survey was carried out online. The figures have been weighted and are representative of all GB adults (aged 18+).
About Lexus
The Lexus brand has been offering luxury premium cars to the market since 1990. From the first LS400 luxury saloon, to the latest GS 450h full hybrid executive saloon, Lexus cars combine outstanding refinement, class leading comfort and startling performance in one package. Lexus: Creating Amazing.
About Quiet Mark
In our stressful lives we are surrounded by a cacophony of sound that we have little power to stop. The louder the noise around us the more energy we waste to overcome it, and it is getting worse day by day. If we don't do something about this soon, our ability to hear the subtle sounds around us will disappear. Quiet Mark is embarking on a journey to redress the situation, to create a demand for the use of quieter technology in our homes, in our workplace and in the open air. Quiet Mark, a not-for-profit trading arm of the Noise Abatement Society charity, sprang from the response to public complaints received by the Society's 24/7 national noise helpline, concerning the volume of excessive noise made by household tools and appliances which invade the fabric of everyday life.
Quiet Mark brings the answer with a universal symbol and system of support for consumers and industry alike and is a vehicle to finance transformation of the aural environment for the benefit of all. Quiet Mark product submissions are assessed by a team of the UK's leading acousticians at the Association of Noise Consultants.
The response from industry internationally has been overwhelmingly positive with over 35 leading global brands across first 30 product categories from dishwashers to garden tools now on board including AEG Electrolux, LG, Mitsubishi, Panasonic, Philips, Samsung, Whirlpool who have achieved awards for their quieter products with the distinctive purple Quiet Mark logo. The world's first quiet showcase featuring the award winners and other practical peace making solutions in Quiet Mark's Win a Quiet Life in 2012 monthly promotion at http://www.quietmark.com/
About the Noise Abatement Society
The remit of this national charity is to abate excessive and unnecessary noise to protect the public and improve the environment. Working with Government and Industry over the last fifty years the Noise Abatement Society has achieved a reputation for collaborative partnerships to find practical solutions to noise problems, underscored by programmes to raise awareness and educate about measured, considered and responsible use of sound. www.noiseabatementsociety.com
Press contacts
Liberate Media:
Lloyd Gofton – mobile +44 (0)7919 353484; Email: lloyd@liberatemedia.com
Lucy Brandt – mobile + 44 (0)7720 635048; Email – lucy@liberatemedia.com
Tim Greenhalgh – mobile +44 (0)7808 608416; Email – tim@liberatemedia.com