Working life of notebooks, hybrids, tablets and handhelds extended by an average of more than 2 years
BRACKNELL, UK. 17th January 2017 UK companies are saving an average of 33% of their annual spend on mobile devices by introducing a Sustainable Mobile Device Strategy say IT buyers in the latest research. Buyers estimated that by carefully considering their mobile device purchases against key sustainability criteria they could extend the average life of their notebooks, tablets, hybrids and handhelds by more than two years. The independent research was carried out by Opinion Matters on behalf of Panasonic Business and surveyed IT buyers in 250 companies.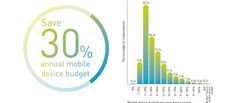 Infographic 1
Financial, rather than environmental and corporate social responsibility concerns, are the primary drivers for implementing the strategy. Total Cost of Ownership savings through extended use of notebooks, tablets, hybrids and handheld devices as well as their accessories and peripherals was cited as the most important issue when considering a sustainability strategy.
The primary savings that businesses cared most about as a result of implementing a strategy were reduction of spend on new devices (38%), better recycling of devices (34%), a reduction in the TCO of devices (32%) and a reduction in spend on batteries (29%).
More than 95% of IT buyers say that sustainable mobile IT is highly important or important to their business. So far 83% of UK companies have introduced a Sustainable Mobile Device Strategy for their notebook, hybrid, tablet and handheld devices, with 55% introducing one in the past 3 years.
"UK businesses have quickly realised that taking a sustainable approach to the purchase of their mobile devices delivers significant financial, as well as environmental benefits," said Jan Kaempfer, General Manager for Marketing for Panasonic Computer Product Solutions. "Practical considerations, such as the long-term compatibility of accessories and peripherals, failure rates, warranties and easily swappable batteries all add up to longer lasting devices, resulting in better TCO and a reduced spend on new equipment."
"Businesses still waiting to implement a Sustainable Mobile Device Strategy are missing out on significant savings – on average 33% of their annual mobile device budget."
An Executive Summary of the research findings can be downloaded here: http://business.panasonic.co.uk/computer-product/sites/default/nfsfiles/technical_downloads/115098%20Sustainable%20IT%20strategy%20whitepaper%20v4.pdf.
For businesses looking to implement a Sustainable Mobile Device Strategy, Panasonic Toughbook has commissioned a whitepaper by analyst group QuoCirca on the key issues to consider. Download here.
Press contact:
Michael Bartley
The Amber Group
michael@ambergroup.net
+44 (0)118 949 7750
About Panasonic System Communications Company Europe (PSCEU)
PSCEU is the European branch of Panasonic Systems Communications Company, the global B2B division of Panasonic. PSCEU's goal is to improve the working lives of business professionals and help their organisations' efficiency and performance. We help organisations capture, compute and communicate all sorts of information: image, voice, and textual data. Products include PBX telephone switches, document printers, professional cameras, projectors, large visual displays, rugged mobile PCs and fire alarms solutions. With around 400 staff, engineering design expertise, global project management capability and a large European partner network, PSCEU offers unrivalled capability in its markets.
PSCEU is made up of four product categories:
Communication Solutions, including professional scanners, multifunctional printers, telephony systems and SIP terminal devices.
Visual System Solutions, including projectors and professional displays. Panasonic offers the widest range of Visual products, and leads the European projector market with 28% revenue share. (Futuresource B2B market tracking, Q1/2014)
Professional Camera Solutions, including Broadcast & ProAV products, security, fire alarm systems and industrial medical vision (IMV) technology. Panasonic is one of the top two professional camera vendors in Europe.
Computer Product Solutions helps mobile workers improve productivity with its range of Toughbook rugged notebooks, Toughpad business tablets and electronic point of sales (EPOS) systems. As European market leaders, Panasonic Toughbook had a 66% revenue share of sales of rugged and durable notebooks and Panasonic Toughpad held a 59% revenue share of sales of rugged business tablets in 2015 (VDC Research, March 2016).