European cloud data residency guarantee gives Morphean a competitive advantage
Fribourg, September 20th 2016 – Interoute, owner operator of a global cloud services platform and one of Europe's largest networks, today announced that Morphean, a European leader in Video as a Service, is hosting its management platform for content analysis videos and incident detection in Interoute Virtual Data Centre.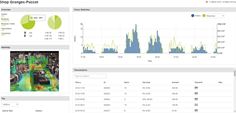 Interoute Morphean image
Rodrigue Zbinden, CEO of Morphean commented: "Most of our competitors are American and even some European competitors often host their data in the US cloud across the Atlantic, so we decided to differentiate ourselves by giving our customers the choice to host their data with a European cloud with local European data centres. This assures our customers that their data will stay within the borders of the elected European countries."
Mr Zbinden goes on to say: "Interoute is present in almost every country we cover, it has relentless security assurances and is recognized by major consulting firms such as Frost & Sullivan and Gartner and we believe it has unbeatable performance in Europe."
Currently, Morphean already hosts its VIDEOPROTECTOR platform in Interoute Virtual Data Centres in Paris, Geneva, Frankfurt and London. It is available in SaaS mode for its customers (CCTV companies, physical security device installers and service providers) who use the solution or resell it as a white labelled solution. VIDEOPROTECTOR is much more than just a hosted video surveillance platform. It offers the best and easiest solution to monitor, protect or analyse shops, stations, small offices, buildings or industries. Its unique active learning video analysis technology scans human behaviour to detect incidents or report business activities.
Rodrigue Zbinden, CEO of Morphean, outlines the company's ambitions: "By the end of 2017 we will manage 15,000 cameras per data centre, which we predict will grow to 50,000 per data centre by the end of 2018. We are experiencing strong growth in Europe and Interoute has the scale and ability to support us in this adventure. As a leader and innovator in the VSaaS (Videosurveillance as a Service) market, we are also working on big data analysis that will demand additional processing power and unparalleled connectivity and we know that Interoute already supports such projects successfully. Compared to other providers, Interoute covers more countries where we operate, has the high levels of security and technology, unparalleled performance and does not charge us for the inflows and outflows of data, and that's very important in video!"
Matthew Finnie, CTO of Interoute, said: "We are delighted to support Morphean in its ambitious projects. Our geographic coverage, our network performance and flexibility of our pricing model provide a perfect fit for Morphean. Thanks to our integrated cloud platform built into our network, Morphean's customers in several countries can take advantage of the very low latency between our data centres, in addition to physical security and guaranteed data residency."
-Ends-
About Morphean
Morphean is a Swiss company, located in Fribourg who was founded in 2009 as a spin-off from Softcom Technologies. Morphean's mission is to bring to the market innovative video surveillance solutions, especially hosted video management platforms, incident detection and video content analysis technology. We have been pioneering in digital video protection systems for over ten years. As early as 2001, we produced the first fully digitalised video management system
http://morphean.ch/fr/
About Interoute
Interoute is the owner-operator of one of Europe's largest networks and a global cloud services platform which encompasses 12 data centres, 17 virtual data centres and 31 colocation centres, with connections to 195 additional third-party data centres across Europe. Its full-service Unified ICT platform serves international enterprises and many of the world's leading service providers, as well as governments and universities. Interoute's Unified ICT strategy provides solutions for enterprises seeking connectivity and a scalable, secure advanced platform on which they can build their voice, video, computing and data services, as well as service providers in need of high capacity international data transit and infrastructure. With established operations throughout Europe and USA, Interoute also owns and operates 24 connected city networks within Europe's major business centres. www.interoute.com
Interoute PR contacts:
Ruder Finn
+44 (0)20 7438 3050
interoute@ruderfinn.co.uk
Forward-Looking Statements
This communication contains certain forward-looking statements. A forward-looking statement is any statement that does not relate to historical facts and events, and can be identified by the use of such words and phrases as "according to estimates", "aims", "anticipates", "assumes", "believes", "could", "estimates", "expects", "forecasts", "intends", "is of the opinion", "may", "plans", "potential", "predicts", "projects", "should", "to the knowledge of", "will", "would" or, in each case their negatives or other similar expressions, which are intended to identify a statement as forward-looking. This applies, in particular, to statements containing information on future financial results, plans, or expectations regarding business and management, future growth or profitability and general economic and regulatory conditions and other matters affecting Interoute.
Forward-looking statements reflect the current views of Interoute's management ("Management") on future events, which are based on the assumptions of the Management and involve known and unknown risks, uncertainties and other factors that may cause Interoute's actual results, performance or achievements to be materially different from any future results, performance or achievements expressed or implied by these forward-looking statements. The occurrence or non-occurrence of an assumption could cause Interoute's actual financial condition and results of operations to differ materially from, or fail to meet expectations expressed or implied by, such forward-looking statements.
Interoute's business is subject to a number of risks and uncertainties that could also cause a forward-looking statement, estimate or prediction to differ materially from those expressed or implied by the forward-looking statements contained in this communication. The information, opinions and forward-looking statements contained in this communication speak only as at its date and are subject to change without notice. Interoute does not undertake any obligation to review, update, confirm or to release publicly any revisions to any forward-looking statements to reflect events that occur or circumstances that arise in relation to the content of this communication.