READING, UK – Sep 13, 2011 – Symantec Corp. (Nasdaq: SYMC) today announced the findings of its inaugural UK Trust Index, which investigates the extent to which the public trust different industries with their personal information. The survey of more than 2,000 UK adults found that the financial services sector was the most trusted, ahead of the public sector and online retailers, with more than half (55 percent) giving banks and building societies a high trust score.
The study, carried out by YouGov and commissioned by Symantec, required each respondent to give a trust score of between one (don't trust at all) and seven (trust completely) depending on how much they trusted firms within a specific sector with their personal information. Sectors included financial services, online retail, public sector, online communities, publishing and gaming.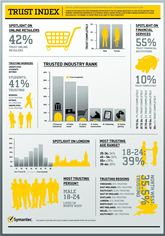 Infographic layout
Financial services emerged as the only industry that the majority of respondents trust with their personal information. In fact, 10 percent said that they "completely" trusted financial organisations to keep their information confidential. More than a quarter (28 percent) of respondents gave the public sector a trust score of three or less. More than half (58 percent) said they were either unsure or untrusting of online retailers.
"It's clear businesses that handle personal information have an issue with consumer trust," said Siân John, Security Strategist at Symantec. "The amount of information firms handle each day is growing at an astonishing rate, so organisations can't afford to be seen as untrustworthy when dealing with the personal data relating to their customers. Gaining that confidence is down to having the right security credentials and making sure that no matter where data is stored or how it's accessed, it's demonstrably secure and the right policies are in place to ensure it's not mishandled."
Click to Tweet: Financial services top Symantec's first UK Trust Index: http://bit.ly/rpMHDC
Leading the pack
The survey indicates it's the younger generation that feels most comfortable with handing over personal information to their financial institutions of choice with three in five of 18 to 24 year olds giving banks and building societies a trust score of five or higher.
Siân John added: "Trust is paramount in financial services and the focus on data handling and security is clearly paying dividends in confidence. However, this doesn't mean that the job is done. Data volumes and the threat landscape are evolving at such a rapid pace that financial organisations, like any other types of businesses, need to be constantly reviewing and updating their software, procedures and policies to ensure that they're always protecting the integrity of the information they hold."
Public sector and online retailers need to earn trust
Somewhat surprisingly, less than half (48 percent) of respondents trusted their information to be kept safe and confidential in the hands of the public sector. Online retailers also scored low on the trust index with nearly a third (32 percent) of respondents giving the sector a trust score of three or less.
John, commented: "Protecting the integrity of confidential information is of course vital, but making it clear to the public that their information is safe is crucial as well. Security conscious online retailers need to differentiate themselves from bogus sites and the public are increasingly looking for visible signs that a retailer is proactive about security. Trust seals show that an organisation is what it says it is and has passed a rigorous malware scan enabling a boost in customer confidence for businesses investing in these and displaying them clearly throughout the site.
Bringing up the rear
Symantec's research found that the levels of trust dropped dramatically when looking at online communities, online publishers and the online gaming industry. On average, nearly 60 percent of respondents gave those industries a trust score of three or below. Online communities such as social networking sites and forums were perceived to be particularly untrustworthy, as more than a third (38 percent) of those surveyed felt that they couldn't trust the industry with their personal information at all.
John, adds: "It's clear that social networking sites, the gaming industry and the publishing community aren't doing enough to assure the public that their personal information is safe and secure. As these industries increasingly become more monetised, they will be handling more sensitive data. It's therefore vital that they avoid being left red-faced as a result of serious data breaches. Having strong data protection that's clearly communicated will give consumers peace of mind and will help to improve an industry's trust score."
Information protection best practices:
Always process information correctly and assess the risks associated with different types of confidential information

Educate employees on information protection policies and procedures and ensure that training is regularly refreshed to include the latest compliance regulations

Implement an integrated security solution that protects information on all endpoints, not just desktop terminals

Make sure your organisation has disaster recovery and data loss prevention technology in place at all times

Proactively encrypt mobile devices to minimise the consequences of a lost device

Implement two factor authentication and strong password policies to minimise the risk of lost or stolen devices
About Symantec
Symantec is a global leader in providing security, storage and systems management solutions to help consumers and organisations secure and manage their information-driven world. Our software and services protect against more risks at more points, more completely and efficiently, enabling confidence wherever information is used or stored. More information is available at www.symantec.com.
###
NOTE TO EDITORS: If you would like additional information on Symantec Corporation and its products, please visit the Symantec News Room at http://www.symantec.com/news. All prices noted are in U.S. dollars and are valid only in the United States.
Symantec and the Symantec Logo are trademarks or registered trademarks of Symantec Corporation or its affiliates in the U.S. and other countries. Other names may be trademarks of their respective owners.
CONTACT:
Katherine James
Symantec Corp.
+44 (0) 118 943 6384
katherine_james@symantec.com
John Brown
Speed
+44 (0) 207 842 3273
symantec@speedcommunications.com