London, Wednesday 15th September - TEDxLondon today announced the illustrious live speaker line up for "The Future We Make", a special TEDx event exploring global health and development taking place on September 20th at the Science Museum, London.
Hosted by Wired UK editor David Rowan and featuring a live broadcast of Melinda Gates of the Bill and Melinda Gates Foundation speaking from TEDxChange New York. Live speakers at the London event will include leading figures in Britain's fight to help the world achieve its Millennium Development Goals including: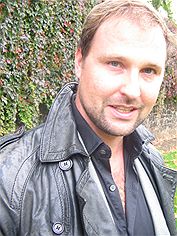 Paul Hilder Headshot
Wendy Hanamura, Vice-President of ViewChange: Wendy oversees Broadcast, Pledge and special projects for Link TV, the independent, non-profit media network; whose goal is to inspire global awareness through unique content: international news, foreign films, world music, and global comedy series. Link TV reaches 40 million U.S. households and can also be viewed at www.linktv.org
Chimamanda Ngozi Adichie, Author, MacArthur Fellow & Judge for View Change Film Contest: Nigerian born author, Chimamanda is famously known for her fictional take of the Biafran War in Half of a Yellow Sun. Having deeply rooted interests in current affairs and global issues, she has taken on the role of a judge on the ViewChange film contest, contributing her perspective on what makes an engaging story. Upcoming projects include a further literature project focusing on Nigerian immigrants when they encountered a new life in the USA.
Andrea Coleman, CEO of Riders for Health: In Africa millions of people are dying from easily-preventable diseases because health workers do not have the reliable transport to reach them. As a former motorcycle racer and co-founder of Riders for Health, Andrea ensures health workers have access to vehicles that never break down. Riders for Health is making sure millions of people across Africa receive regular, reliable health care, often for the first time in their lives.
Paul Hilder, Founder of OpenDemocracy and Avaaz.org: Paul Hilder is a global public entrepreneur, organiser and strategist. He is Campaigns Director of the worldwide movement Avaaz.org, which has grown to over five and a half million members worldwide since he helped launch it in 2007, and a board director of the British campaigning movement 38 Degrees. Previously, he co-founded openDemocracy.net, the global debate network. He has worked on conflict resolution, democracy and social innovation internationally, in particular in Europe and the Middle East. He is the author of Contentious Citizens (Carnegie / Young Foundation, 2007) and a Trustee of the human rights charity Article 1. From October 2010, he will be the new Director of Campaigns in the UK for Oxfam, the global development movement.
The Future We Make aims to explore the developments that have been made so far over the past ten years and what challenges need to be faced in upcoming years.
The Future We Make begins at 3:00 p.m. (GMT) on Monday, 20th September at the Science Museum, Exhibition Road, London. TEDxLondon will also provide a free live web stream at www.tedxlondon.com.
To register to become a TEDxLondon member or for more information on The Future We Make, or to watch it live online, visit www.tedxlondon.com. This independent TEDx event is operated under license from TED.
Follow TEDxLondon on Twitter(twitter.com/TEDxLondon) or become a fan TEDxLondon on Facebook (www.facebook.com/group.php?gid=42491932662&v=wall&ref=ts) for regular updates.
ENDS
About TEDxLondon
TEDxLondon is a network of London based leaders and TED attendees who have self-organised events that bring people together to share a TED-like experience. Our event is called TEDxLondon, where x = independently organised TED event. TEDxLondon, TEDTalks video and live speakers combine smaller groups to share inspiration and ideas. The TED Conference provides general guidance for the TEDx program, but individual TEDx events are self-organised. This will be the first TEDxLondon event from Evan Grant, one of the UK's leading technologists and creatives.
Follow TEDxLondon on Twitter
(twitter.com/TEDxLondon) or become a fan TEDxLondon on Facebook
(www.facebook.com/group.php?gid=42491932662&v=wall&ref=ts) for regular updates.
About TED
TED is a nonprofit organization devoted to Ideas Worth Spreading. Started as a four-day conference in California 25 years ago, TED has grown to support those world-changing ideas with multiple initiatives. TED speakers have included Bill Gates, Al Gore, Jane Goodall, Elizabeth Gilbert, Sir Richard Branson, Nandan Nilekani, Philippe Starck, Ngozi Okonjo-Iweala, Isabel Allende and former UK Prime Minister Gordon Brown.
The annual TED Conference takes place in Long Beach, California, with simulcast in Palm Springs; TEDGlobal is held each year in Oxford, UK.
TED's media initiatives include TED.com, where new TEDTalks are posted daily, and the Open Translation Project, which provides subtitles and interactive transcripts as well as the ability for any TEDTalk to be translated by volunteers worldwide and TEDx, which offers individuals or groups a way to host local, self-organised events around the world.
Follow TED on Twitter at twitter.com/TEDTalks, or on Facebook at facebook.com/TED
For further information, images or interviews contact:
Robin Dhara
robin@red-robin.co.uk
+44 788 080 7752
Jenny Sander
Jenny.e.sander@gmail.com