Global provider of networking products teams up with Comet to offer a convenient and affordable solution for extending your home network.
London, UK, 16 December 2011 – TP-LINK, global provider of SOHO and SMB networking products, has partnered with Comet, one of the UK's leading electrical retailers, to bring TP-LINK's popular powerline starter kit, TL-PA211, to the high street.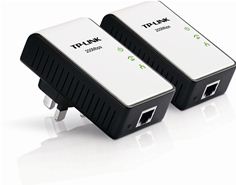 TL-PA211 Starter Kit
Expanding its high street presence the TP-LINK TL-PA211 starter kit will be available before Christmas in Comet's 248 stores across the UK. With tablets, laptops and mobiles on every Christmas wish list, consumers are going to be demanding more than ever from their home networks so the TL-PA211 offers the perfect solution, extending network access to even the most inaccessible spots in the home.
Eric Wang, country manager of TP-Link UK said; "Partnering with such a well-respected high street retailer like Comet demonstrates our commitment to the UK consumer market both online and on the high street. Home networking products have gone from niche to norm thanks to the availability of affordable home networking products like the TL-PA211. With more people working from home and an increasing dependence on the Internet to keep in touch socially, consumers are demanding high speed, reliable and secure networks. TP-LINK, together with Comet, is committed to making this a reality."
TL–PA211 is available through comet.co.uk now.
TP-LINK's TL-PA211 Powerline adapter starter kit takes advantage of your home's existing electrical wires to transfer data while simultaneously transferring traditional power. That means, with no additional wiring required, users can simply plug the TL-PA211 into existing power sockets and establish a networking infrastructure. With high-speed data transfer rates of up to 200Mbps, users can enjoy HD video streaming, online gaming, VoIP or any other bandwidth intensive tasks for work or play.
- ENDS -
About TP-LINK
TP-LINK is a global provider of SOHO & SMB networking products and the World's No.1 provider of WLAN and Broadband CPE devices, with products available in over 100 countries to tens of millions of customers. Committed to intensive R&D, efficient production and strict quality management, TP-LINK continues to provide award-winning networking products in Wireless, ADSL, Routers, Switches, IP Cameras, Powerline Adapters, Print Servers, Media Converters and Network Adapters for Global end-users.
Based on the confidence of tens of millions of customers, TP-LINK is now growing to become one of the most competitive providers of networking products with aspirations to become one of the top 3 networking brands in the world and striving for a larger global market share, while further advancing in the world of networking to better serve our most valued customers with products that make their lives easier. TP-LINK was recently named by US research analysts, In-Stat, as the market leader for total Wi-Fi equipment shipments (26%), noted as having the highest marketshare for BB CPE (25.65%) and also came second in the category observing Port Shipment (17.63%). For further information visit www.tp-link.com
About Comet Group plc:
Comet is a leading specialist electrical retailer with 248 stores throughout the UK, offering a wide range of electrical products.
Comet encourages its customers to 'Come and Play' at stores across the UK, where they can experience technology first-hand and get advice from the friendly and knowledgeable staff.
The Comet website - Comet.co.uk - offers quick, easy, convenient shopping and with Comet's Click and Collect service customers can reserve online and collect in store an hour later. Additionally, customers can shop by phone on 0844 800 95 95.
Comet offers a range of services including home delivery and next day delivery, full installation of products such as televisions, computers and integrated kitchen appliances, take back and recycling facilities for large products and comprehensive after sales service. It also provides instant, expert advice on computer related queries and issues. Technicians are on hand from 8am to 10pm, 364 days a year, on 0844 892 09 99.
Sarah Smith / Helena Reid
AxiCom for TP-Link
tplink@axicom.com
0208 392 4077