London, UK, 13 January 2011 – TP-LINK, a global provider of SOHO and SMB networking products, today unveiled a wide range of products which were on display at CES 2011, including new products to offer consumers the fastest speeds for gaming, HD video streaming, and surfing the internet without any interference.
New 450Mbps Simultaneous Dual Band Wireless Gigabit Router (TL-WR2843ND) – £84.99 – available May 2011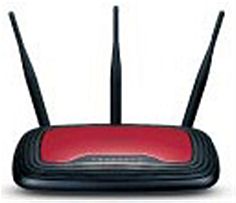 TL-WR2843ND
With speeds of up to 450Mbps and simultaneous dual-band capabilities, you can now play music, games and HD videos as well as share photos from anywhere in your home or office without worrying about drops in wireless connection.
Simultaneous dual band is the best weapon to avoiding interference on your wireless network. Because so many devices in the home - such as cordless phones, Bluetooth devices, and don't forget your neighbours' wireless routers - operate on the 2.4GHz band, the likelihood of your Wi-Fi network slowing down is high. However, with the additional 5GHz band on the 450Mbps Dual Band Wireless Router, you gain access to an entire band of free channels to transmit data. For example, you can use the 2.4GHz band to browse the Web while at the same time use the 5GHz band to stream HD videos.
The TP-LINK 450Mbps Dual Band Wireless Router offers a USB Share Port to attach an external hard drive or other USB storage device for sharing and backing up files. Adding a new device to your network is simple with its Wi-Fi Protected Setup Button. Just press a button and your wireless device will automatically receive your network security information and securely configure itself.
Features
With three spatial streams using MIMO technology, the Router achieves a maximum theoretical throughput of up to 450Mbps—up to 50% faster in speed and 60% increase in range over standard 300Mbps wireless 802.11N.

Simultaneous dual-band performance prevents interference and offers an extra channel to ensure completion of all your bandwidth-intensive applications.

USB Share Port allows you to attach a USB storage device—such as an external hard drive, digital camera or USB flash drive—directly to the Router, giving any network-connected user access to documents, videos and photos on the storage drive.

Wi-Fi Protected Setup Button makes adding a new device to your network simple. Just press a button and your wireless device will automatically receive your network security information and securely configure itself.
Specifications
Standard: IEEE 802.11n, IEEE 802.11g

Interface: 4 10/100/1000Mbps LAN Ports, 1 10/100/1000Mbps WAN Ports
1 USB 2.0 Port, Push Button (for Wi-Fi Protected Setup)

3x3 External Dual Band Antenna

2.4GHz, 5GHz frequency range

Wireless speed up to 450Mbps

Modulation Technology: DBPSK, DQPSK, CCK, OFDM, 16-QAM, 64-QAM

USB 2.0 interface

Quick Security Setup

Wireless Security: WEP, WPA, WPA2 encryptions, MAC Filtering

Advanced Firewall Features: Network Address Translation (NAT), VPN Pass-through (PPTP / L2TP / IPSec) / SPI Firewall, Access Control

Dimensions(L*W*H) 1.4*0.7*0.3in.(36.8*17*8.4mm)
New 150Mbps Mini Wireless USB Adapter (TL-WN723N) - £7.99 – available February 2011
Comparable to the size of a piece of chewing gum, the Mini Wireless USB Adapter gives the best speed and range to watch HD video, surf and play online games. At speeds up to 150Mbps, the Mini Wireless USB Adapter will boost your laptop's wireless to handle higher bandwidth than its own built-in wireless card. Further, measuring just 1.5" long and 0.7" wide, the Adapter will not block neighbouring USB ports on your computer, so you can take advantage of all the available USB ports on your laptop.
Features
Slight footprint will not block neighbouring USB ports

150Mbps 802.11n wireless speed enables your Internet surfing, online gaming and video streaming

Compatible with WPS and supports Quick Security Setup allowing you to instantly establish a highly secured connection
Specifications
IEEE 802.11n/b/g, IEEE802.1X

2.4GHz~2.4835GHz frequency range

LEDs: Status (internal)

USB 2.0 interface

Quick Security Setup: 64/128/152 bits WEP, WPA/WPA2, WPA-PSK/WPA2-PSK(TKIP/AES)

Certifications: CE, RoHS, FCC

Supports Windows 2000/XP/Vista, Windows 7 OS

Dimensions(L*W*H) 1.4*0.7*0.3in.(36.8*17*8.4mm)
New Wireless Pan/Tilt Surveillance Camera (TL-SC4171G) - £200.00 – available February 2011
With the new TP-LINK Wireless Pan/Tilt Surveillance Camera, you can now keep a close watch on an entire room from your PC or 3G mobile phone, giving you a sense of security round-the-clock. The high-quality camera conveniently pans and tilts automatically, capturing vibrant colour images without colour distortion in the day and recording clear video at night. Intelligent recording and remote alerts to your 3G mobile phone or laptop assure even more security no matter where you are.
With advanced features to facilitate surveillance such as wireless video streaming and 2-way audio transmission, the Wireless Surveillance Camera is ideal for the home, office, and even commercial settings such as a warehouse or a supermarket. When mounted on the ceiling or wall, the 354° horizontal pan, 125° vertical tilt, and 10x digital zoom assure complete room monitoring. Further, the camera's live video can be accessed from nearly anywhere via the Internet, such as your laptop, tablet, or 3G mobile devices.
Features
Remote pan/tilt for large surveillance area

Excellent round the clock day/night surveillance

Patrol tour at adjustable intervals

Motion detection trigger and DIDO Support

Easy remote view
Specifications
354° pan/125° tilt range

Max. 60°/sec pan speed

Max. 80°/sec tilt speed

10x Digital Zoom

1/4" Progressive scan CMOS sensor

0.3 Megapixel (640x480)

12 Infrared LEDs around the lens;10 meters (33-feet)effective Night Vision Range

Simultaneous MPEG-4 and Motion-JPEG (Dual streaming) video streaming

Multiple user access levels with password protection, HTTPS encryption

Dimensions ( W X D X H ) 112 x 114 (φ)mm (4.4" x 4.4")
- ENDS -
Notes to editors:
TP-LINK products are available in the UK from authorised TP-Link retailers and resellers. A full list of UK stockists is available here www.tp-link.com/uk/buy.
For further information, images or interviews please contact:
Sarah Smith at Axicom PR on t: +44 (0)20 8392 4085 or email: sarah.smith@axicom.com
About TP-LINK
TP-LINK is a global provider of networking products, available in over 100 countries with tens of millions of customers. With the Number 1 market share in China, TP-LINK is committed to innovative R&D, effective production and strict quality management. TP-LINK provides wireless routers & adapters, wireless access points, 3G routers, ADSL modem routers, Powerline products, IP cameras, print servers, SOHO/SMB routers and SOHO/SMB switches. Visit us at http://www.tp-link.com/en/.