Enjoys Failsafe Travel with SANsymphony
READING, UK. and Unterfoehring, Germany, June 19, 2017 – DataCore Software, a leading provider of software-defined storage, today announced that its software-defined storage platform, SANsymphony™, has been implemented on the cruise ship fleet of TUI Cruises, a joint venture between German TUI AG and Royal Caribbean Cruises Ltd., the world's second-largest cruise company. The SANsymphony™ storage platform delivers highly-available and high-performance storage capacity for VMware, Microsoft SQL Server and Microsoft Exchange.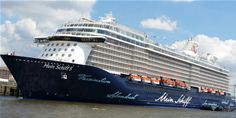 Mein Schiff Cruise Liner
"DataCore's scalability in terms of capacity, performance and functionality gives us the flexibility we need to respond to future challenges, whether it is on the single ships or for the entire fleet. In addition, SANsymphony has demonstrated total reliability. We plan to keep expanding our 'Mein Schiff' fleet, and we will continue to rely on BSH IT Solutions and SANsymphony to sail alongside," said Matthias Fahrner, director IT Competence Centre & Strategy at TUI Cruises.
TUI Cruises offers exclusive routes along the Mediterranean coasts, Canary Islands, the Caribbean and Central America, the Baltic Sea, the Nordic region, Great Britain and Iceland. Other travel areas include the Arabian Gulf, Asia, and North America, departing from New York. The company started with the acquisition of "Mein Schiff 1" in 2009 and "Mein Schiff 6" has just been launched. Two more new ships are already planned and are manufactured until 2019 at the Meyer Turku shipyard in Finland.
The IT infrastructure for the first five members of the fleet were designed on land by DataCore IT service partner BSH IT Solutions who implemented SANsymphony on board within extremely narrow time frames to fit the final implementation schedule when the ship docks after completion of sea trials, managing the platform remotely via its data centres in Germany.
The entire IT infrastructure on the ships is designed redundantly. Systems are installed in separate fire and water zones, on different decks, and in the data centres located at the bow and stern. DataCore SANsymphony synchronously mirrors data, regardless of the manufacturer, model or technology of the connected storage hardware (disk or SSD), in order to ensure a high level of availability for systems on the ships. While Mein Schiff 2 used an existing HP Bladecenter for the DataCore nodes, Mein Schiff 3 was equipped with a 10GB fibre channel infrastructure, new HP Proliant and HP disk shelf with SAS disk capacity of 20TB for each side. Mein Schiff 4 uses Dell PowerEdge and PowerVault extension for the DataCore nodes. New and existing storage hardware can be easily integrated, and its lifespan is extended.
If a section of a data centre fails, the other side automatically takes over (transparent auto failover) and resyncs the system when it is restarted (auto failback). The storage environment of Mein Schiff 5 supports four VMware ESXi hosts as well as two Veeam backup servers to back up the 50 virtual machines. Separately from the navigation infrastructure, these run all of the systems needed for the cruise, tourism and administrative operations. In particular, Microsoft Exchange, Microsoft SQL Server, file services and Active Directory play an important role.
"SANsymphony offers an outstanding price-performance ratio. The numerous integrated technologies helped us successfully migrate the data centers; they solve our current storage challenges and give us a high level of flexibility and investment security for the future," said Matthias Fahrner.
Benefits at a glance:
High level of availability thanks to synchronous mirroring
Transparent failover
Scalable in terms of capacity, output and performance
Easy to use on site, with worldwide remote management by the partner
See the full case study at http://www.datacore.com/sf-docs/default-source/testimonials/2017-02---case-study---tui-eng.pdf?sfvrsn=0
About TUI Cruises
TUI Cruises, headquartered in Hamburg, was founded in April 2008. The company is a joint venture between TUI AG from Hanover and Royal Caribbean Cruises Ltd., the world's second largest cruise company. The cruise brand TUI Cruise combines the features of a shipping company and a tour operator under one roof. The first member of the TUI Cruises fleet, Mein Schiff 1, was acquired and put into operation in May 2009. www.tuicruises.com
About DataCore
DataCore is a leading provider of software-defined storage and hyperconverged infrastructure solutions powered by Adaptive Parallel I/O technology, delivering higher performance, greater application workload productivity and cost savings. DataCore leverages the multi-core advances and cost efficiency of off-the-shelf x86 server platforms to overcome the IT industry's biggest problem, the I/O bottleneck. With DataCore, customers enjoy faster application response times and lower costs by making full use of their available computing resources to multiply productivity. The SANsymphony™ software-defined storage product pools diverse storage despite differences and incompatibilities among manufacturers, models, and generations of equipment. The software can span multiple locations and devices to bring them under the control of a common set of enterprise-wide data services for management automation and infrastructure simplification. DataCore Hyper-converged Virtual SAN software provides similar services using the internal or direct-attached storage spread across physical or virtual servers in a cluster.
The company has been privately held since its founding in 1998, and today has more than 10,000 customer sites across the globe. DataCore solutions are also available within turnkey appliances from hardware manufacturers including Lenovo. Visit http://www.datacore.com or call (877) 780-5111 for more information.
DataCore, the DataCore logo and SANsymphony are trademarks or registered trademarks of DataCore Software Corporation. Other DataCore product or service names or logos referenced herein are trademarks of DataCore Software Corporation. All other products, services and company names mentioned herein may be trademarks of their respective owners.
Company contacts:
TUI Cruises GmbH, Anckelmannsplatz 1, 20537 Hamburg, Tel.: +49 40 60001-5000, info@tuicruises.com, www.tuicruises.com
BSH IT-Solutions GmbH – AN ALLGEIER COMPANY, Hans-Bredow-Straße 60, 28307 Bremen, Tel. +49 421 64 92 29 – 0, info@bsh-it.de, www.bsh-it.de
Press contacts:
UK: KPR Global, Sharon Munday, +44 23 9311 4100, smunday@kprglobal.com