Which enterprise technology startups have the most promising technologies?
London, 19th November 2013 – After a fantastic second outing for The Tech Trailblazers Awards, the enterprise information technology startup awards today announced shortlisted finalists across the nine categories: Big Data, Cloud, Emerging Markets, Infosecurity, Mobile, Networking, Storage, Sustainable IT and Virtualization.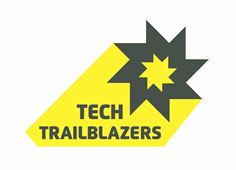 Tech Trailblazers Awards logo
The second edition of the awards received an increase in both the quantity and quality of entries making the judging quite a challenge, showing the Awards are gaining momentum amongst the enterprise technology startup community.
Rose Ross, founder of the Tech Trailblazers Awards, said, "We are excited about the number of high quality entrants we received and the judges really had their work cut out for them. We wish the finalists the best of luck and it is great to see the shortlists again represent a wealth of enterprise technology talent from around the world, not just Silicon Valley."
The winners of the Tech Trailblazers Awards will be determined by the voting public and the judging panel. Which startups have the most promising technologies? The voting for the finalists will go live in early December.
Finalists in the Tech Trailblazers Awards
Big Data
Cloud
Emerging Markets
Mobile
Networking
Security
Storage
Sustainable IT
Virtualization
(ends)
Media Contact
For Tech Trailblazers Awards
Rosalind Carr
Omarketing
UK: +44 (0)208 255 5225
US: +1 781 519 0275
rosalind@omarketing.com
www.twitter.com/Rosalind_at_O
About the Tech Trailblazers Awards
http://www.techtrailblazers.com/ @techtrailblaze
Tech Trailblazers is a new concept in awards, designed explicitly for smaller businesses and startups that are five years old or less and at C-series funding or below. The awards have low barriers to entry and prizes that not only recognize startup innovation, but also proactively help startups grow their businesses with access to exclusive coaching, mentoring and development and prizes. The awards include the following categories:
Big Data Trailblazers
Cloud Trailblazers
Emerging Markets Trailblazers
Mobile Trailblazers
Networking Trailblazers
Security Trailblazers
Storage Trailblazers
Sustainable IT Trailblazers
Virtualization Trailblazers
In addition to the above categories, all entrants are automatically entered into the Regional Trailblazers Cup competition free of charge. The Regional Cups will be announced at the end of November and the individual Cups are:
African and Middle East Trailblazers Cup
Asian-Pacific Trailblazers Cup
European Trailblazers Cup
Latin American Trailblazers Cup
North American Trailblazers Cup
The Tech Trailblazers Awards prize fund, projected to be worth in excess of $1m, is supported by sponsors and industry partners including AfriLabs, Amoo Venture Capital Advisory, beSUCCESS, bnetTV, China AXLR8R, the Cloud Security Alliance, Computing, The Data Chain, ExecEvent, GigaOM, The Green Grid, GSMA, The Icehouse, Innovation Warehouse, Launchpad Europe, Lissted, MIT/Stanford Venture Lab, Mynewsdesk, The Next Silicon Valley, Outsource, Prezi, RealWire, Seed Forum, Silicon Cape Initiative, Skolkovo, StarTau, Startup America, Storage Networking Industry Association (SNIA), Tech in Asia, TechNode, TiE Silicon Valley, Wazoku, Ventureburn and VMware.