Inaugural awards for enterprise tech startups offer prizes worth thousands of dollars and exclusive VC/CTO mentoring to Emerging Markets Trailblazers
LONDON, UK and SANTA CLARA, CA - August 28 2012 - The inaugural Tech Trailblazers Awards announces TiE (The Indus Entrepreneurs) Silicon Valley as its latest industry supporters and joins the likes of global industry associations such as the Cloud Security Alliance, Storage networking Industry Association and MIT/Stanford Venture Labs. The awards invite tech startups from emerging markets such as the BRICS region to enter the Emerging Markets Trailblazers category. Eligible entrants already entering any other categories may also enter the emerging markets category free of charge - hence increasing their chances of winning part of the $1 million dollar prize fund equivalent. The awards are open to entries until September 12th at 11:59pm PT. Download an entry form today at www.techtrailblazers.com.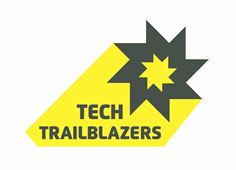 Tech Trailblazers Awards logo
The Tech Trailblazers Awards represent the first independent initiative to recognize and reward enterprise technology startups from emerging markets in a global arena. In addition to emerging markets category, the Tech Trailblazers technology categories include: big data, cloud, infosecurity, mobile, networking, storage and virtualization.
All entrants will win a "goodie bag" of prizes worth over $3,000 from an estimated $1 million prize fund. Winners will also get expert advice in the form of mentoring from VCs and major vendors' CTO offices.
The Tech Trailblazers Awards judging panel includes judges from the emerging markets including Mohit Agrawal, Founder and Editor of Telecom Circle (India); Elise Huang, Partner at WestSummit Capital (China); Mark Hillary, CEO at IT Decisions and Huffington Post blogger (Brazil); Andrew Seldon, Editor of Hi-Tech Security Solutions, TechNews (South Africa); and Monica Zlotogorski, Editor of Inside Latin America (originally from Uruguay but now based in the US).
Vish Mishra, Venture Director, President, TiE Silicon Valley said: "We are partnering with the Tech Trailblazers Awards as we share a passion for start-ups from around the work and the common goal of promoting entrepreneurial spirit regardless of origin. The awards represent another opportunity for our members to get the recognition and rewards they deserve both in the emerging markets category but in the technology category where their expertise lies."
The founder of the Tech Trailblazers Awards, Rose Ross, commented: "Support from global initiatives such as TiE Silicon Valley focused on entrepreneurialism from and in emerging markets is vital for Tech Trailblazers to be seen as a viable global program. Startups from emerging markets often have different and more unique perspectives on enterprise IT challenges. We wanted to ensure tech startups from emerging markets felt their voices would be heard in an arena often dominated by the bigger players. Being committed to creating a global community within the Tech Trailblazers required levelling the playing field for all comers. The best way we felt to do that was to give startups from emerging markets their own category, in addition to proactively welcoming them to enter the existing categories. "
There is a heavily subsidized entry fee of just $50 for a standalone submission to the emerging markets category. For more information, please consult the Tech Trailblazers Awards website.
All entrants will get a goodie bag of prizes worth $3,000+, and all winners will get a share of the Tech Trailblazers Awards prize fund, projected to be worth in excess of $1m. The prize fund is supported by sponsors and industry partners including MIT/Stanford Venture Lab, the Cloud Security Alliance, Storage Networking Industry Association (SNIA), Computing, Prezi, Startup America, RealWire, Lissted, Launchpad Europe, Mynewsdesk, Wazoku, and ExecEvent.
The judging panel includes the IT industry's leading figures from around the world, giving little-known startups the opportunity to have their products and services reviewed by eminent influencers.
Entry forms should be submitted before the final closing date of September 12th for consideration by the expert panel. For more information and to download an entry form, please visit http://www.techtrailblazers.com/.
To join the Tech Trailblazers as a sponsor, please email innovate@techtrailblazers.com.
To be added to the mailing list to receive the latest updates, please email innovate@techtrailblazers.com.
For more information, please visit http://www.techtrailblazers.com/ or follow the Tech Trailblazers Awards on Twitter @techtrailblaze, #ttawards or on LinkedIn at www.linkedin.com/company/tech-trailblazers-awards.
(ends)
Notes to editors
Rose Ross, founder of the Tech Trailblazers Awards, and TiE Silicon Valley spokespeople are available to comment. Please contact Olivia Shannon at Omarketing for more information (contact details below).
At present the judging panel includes:
Mohit Agrawal, Founder and Editor, Telecom Circle (Twitter: @telecomcircle)

Cynthia Artin, President, Artin Arts (@cynthiaartin)

Joe Baguley, Chief Cloud Technologist, VMware (@joebaguley)

Frank J. Bernhard, Strategy and Operations Director, Deloitte Consulting (@FrankJBernhard)

Steve Broadhead, Founder and Director, Broadband-Testing Labs (@steve_broadhead)

Rebel Brown, Author and Startup Veteran (@RebelBrown)

Mike Burkitt, CTO, Launchpad Europe (@launchpadeurope)

Teresa Cottam, Founder and Chief Analyst, Telesperience (@teresacottam)

Chris Evans, Consultant and Blogger, TheStorageArchitect.com (@chrismevans)

Marty Foltyn, Hands-On Lab Program, SNIA (@MartyFoltyn)

Ian French, Channel Guru, Mentor and Entrepreneur (@siceo)

Edward P. Gibson, Director, Forensic Technology Solutions, Pricewaterhousecoopers (@EdwardPGibson)

Martin Glassborow, Blogger, Storagebod (@storagebod)

Mark Hillary, CEO, IT Decisions (@markhillary)

Brian Honan, CEO, BH Consulting (@brianhonan)

Elise Huang, Partner, WestSummit Capital

Sam Johnston, Director, Cloud & IT Services, Equinix (@samj)

Ben Kepes, Principal, Diversity Limited (@benkepes)

Justin Lodge, Infrastructure Architect, National Australia Bank (@justin_lodge)

Chris Mellor, Storage Editor, The Register (@chris_mellor)

Steve O'Donnell, Consultant, Advisor and Author, TheHotAisle.com (@stephenodonnell)

W. Curtis Preston, CEO, TruthInIT (@wcpreston)

Simon Robinson, Research Vice President, 451 Research (@simonrob451)

Kai Roer, Senior Partner, The Roer Group (@kairoer)

Raj Samani, EMEA Strategy Advisor, Cloud Security Alliance (@raj_samani)

Andrew Seldon, Editor, Hi-Tech Security Solutions, TechNews (@andrewseldon)

Sarb Sembhi, Director, Consultancy Services, Incoming Thought (@sarbsembhi)

Enrico Signoretti, Senior Consultant, Juku Consulting SRL (@esignoretti)

Harkeeret Singh, Global Head of Energy & Sustainable IT, Thomson Reuters (@harqs)

Jennifer Steffens, CEO, IOactive (@securesun)

Stuart Sumner, Editor, Computing (@stuartsumner)

Jon Toigo, CEO, Toigo Partners International (@jontoigo)

Matthew Yeager, Chief Technologist, Colt Technology Services (@mpyeager)

Monica Zlotogorski, Editor, Inside Latin America, TM Forum (@MonicaCZN)
Media Contacts
For Tech Trailblazers Awards
Olivia Shannon
Omarketing
UK: +44 (0)208 255 5225
US: +1 781 519 0275
olivia@omarketing.co.uk
www.twitter.com/Olivia_at_O
About TiE Silicon Valley
TiE, a not-for-profit global network of entrepreneurs and professionals, was founded in 1992 in Silicon Valley, California, USA. Although its birth name, The Indus Entrepreneurs, signifies the ethnic South Asian or Indus roots of the founders, TiE stands for Talent, Ideas and Enterprise. It is an open and inclusive organization that has rapidly grown to more than 57 chapters in 14 countries. TiE seeks to cultivate and nurture the ecosystem of entrepreneurship and free-market economies everywhere, as it sees this to be the single most powerful instrument of prosperity.
Besides its flagship event, TiECon--the largest professional conference for entrepreneurs, TiE now has a wide range of programs including Special Interest Groups (SIGs), TiE Institute, Growth Company Forum and most recently, TiE Women's Forum and CEO Forum.
Membership fees, event fees, and contributions from sponsors financially support TiE. These sponsors include some of the biggest names among corporations and service providers (venture capital, law, accounting, and consulting). They are also actively involved in various programs for TiE members while elected officials and volunteers manage the TiE operations and activities.
The membership structure of TiE includes Charter Members, who are invited based on their accomplishments and willingness to help the next generation of entrepreneurs. The general membership of TiE is open to anyone who pays nominal dues and can thus access the various activities and services, including mentoring by Charter Members.
TiE respects religious, ethnic and political diversity, and expects the same from its members. TiE does not have any political or religious affiliations. The values and beliefs of TiE reflect the culture and value system of the Silicon Valley: entrepreneurship and wealth creation are invaluable human endeavors, and successful entrepreneurs find fulfillment in helping budding entrepreneurs.
About the Tech Trailblazers Awards
Tech Trailblazers is a new concept in awards, designed explicitly for smaller businesses and startups that are less than five years old and at C-series funding or below. The awards have low barriers to entry and prizes that not only recognize startup innovation, but also proactively help startups grow their businesses with exclusive coaching, mentoring and development from VCs and leading CTOs as well as an estimated prize fund worth in excess of $1m. The awards seek to recognize true innovators in the following enterprise technology and other areas:
Big Data Trailblazers

Cloud Trailblazers

Emerging Markets Trailblazers

Mobile Technology Trailblazers

Networking Trailblazers

Security Trailblazers

Storage Trailblazers

Sustainable IT Trailblazers

Virtualization Trailblazers
Entries close on September 12th - register your interest by emailing us, following us on twitter @Techtrailblaze or via the hashtag #TTAwards.