78% interested in a hardware subscription-based solution to equip mobile workforces
BRACKNELL, UK. 4th DECEMBER 2018 - Technology buyers are in favour of spreading the cost of equipping their mobile workforces with notebooks, tablets and handheld devices, the latest research reveals. 78% of UK technology buyers said they would be interested in a subscription-based solution to equip mobile workforces.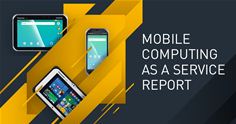 Mobile Computing as a Service Report
Currently buyers say their top considerations when purchasing mobile devices for their workforce are cost (72%) and life expectancy of the product (54%). Yet the majority of buyers still expect to replace their mobile workforces' devices every 2-3 years.
Buyers said an "As a Service" approach for mobile hardware, as opposed to paying out in advance with a large, one-off capital expenditure, would help them to purchase up to date technology more quickly (54%), manage costs better (49%) and free up budget to purchase more accessories (34%).
The new approach of payments for hardware spread over three years at 0% interest, with helpdesk support and secure, end of life disposal was also attractive to buyers for reasons beyond cash flow. 53% said it would help them to maintain and dispose of devices more effectively and 33% agreed it would be a more secure way of disposing of mobile technology.
The service elements buyers most wanted included in the subscription model were a three-year warranty (65%), a payment plan with 0% interest (46%), and delivery of devices straight to the workplace (46%). Optional extras they were keen to see offered included Insurance (45%), extended standard warranty (43%), accidental damage warranty (43%), accessories (39%), specialist software applications (34%) and a trade-in programme (34%).
Despite the enthusiasm for the service, 69% of buyers were unaware of companies offering the service-based solution with 0% interest.
The independent research, carried out by Opinion Matters on behalf of Panasonic Toughbook, questioned 250 UK technology buyers of notebooks, tablets and handheld devices for mobile workforces.
"With the rapid advances in design and functionality of mobile devices and the resulting productivity gains for mobile workforces, businesses are keen to keep up to date with the latest developments," said Kevin Jones, Managing Director for the Panasonic Mobile Solution Business in Europe. "This is resulting in an expensive capital expenditure every two-three years. But buyers are telling us that they would much rather move to a new subscription-based model, similar to the growing popularity of software as a service. Panasonic's new Toughbook as a Service Solution helps our current and future customers overcome this challenge."
Toughbook as a Service
Panasonic launched its new Toughbook-as-a-Service earlier this year. It's a unique, interest free, monthly payment model for rugged devices. Businesses can now equip their mobile workforces with any rugged Panasonic Toughbook notebook, tablet or handheld device without having to worry about large upfront costs in capital expenditure.
Toughbook-as-a-Service is an end-to-end subscription, powered by European digital services provider, Econocom. It allows companies to pay for their Toughbook devices monthly, over a three-year period. Uniquely Toughbook-as-a-Service subscribers pay the same as a cash purchase, even though payments are spread over a longer term - eliminating the need for large upfront costs and allowing organisations to benefit from an OPEX-based solution rather than CAPEX.
Toughbook-as-a-Service solutions include access to Panasonic Toughbook devices, delivery, 3-year warranty, helpdesk support, and end-of-life services such as collection, recycling and data wiping. As well as the rugged hardware, customers can choose to add into the monthly payment, on the same 0% interest terms*, options for their solution including vehicle mounts, docking stations, specialist software applications and other device accessories, as well as extended and accidental damage warranties.
Customers can also choose to personalise their Toughbook-as-a-Service subscription with a number of optional extras, including a trade-in programme, which allows businesses to upgrade their technology without losing the value of their existing estate. Toughbook-as-a-Service also provides the ability to bundle in airtime, MDM and data analytics, for example.
Click here https://toughbook.panasonic.eu/mobile-computing-as-a-service to download an Executive Summary of the research Mobile Computing as a Service: Breaking the expensive cycle of mobile technology refreshes.
* Toughbook-as-a-Service is a 0% finance OPEX solution, including up to 20% soft costs. If the transaction requires more than 20% soft costs / software, the interest rate over 3 years will be higher.
Press contact:
Michael Bartley
The Amber Group
michael@ambergroup.net
+44 (0)118 949 7750
About Panasonic System Communications Company Europe (PSCEU)
Our quest is to make technology work invisibly together and free businesses to succeed. We believe technology should just work. That businesses will succeed if they can simply focus on their customers, in the knowledge that all the technologies delivering their capabilities work together. That is why we are dedicated to developing products and solutions that are so integrated with our customer's way of working, that they are almost invisible – the workhorse in the background that powers business success.
PSCEU is made up of six product categories:
Broadcast & ProAV gives you the freedom to tell the story with its high quality products and solutions, which ensure smooth operation and excellent cost-performance across a range of remote cameras, switchers, studio cameras and ENG P2HD. The cinema camera range of VariCam models and the EVA1 are capable of true 4K and High Dynamic Range (HDR) making them the ideal solution for cinema, television, documentary and live event production.
Communication Solutions offers world leading telephony systems, SIP terminal devices and professional 'network' scanners giving you the freedom to focus on the communication and not the connection.
Computer Product Solutions help mobile workers improve productivity with its range of TOUGHBOOK rugged notebooks, Toughpad business tablets and electronic point of sales (EPOS) systems. As European market leaders, Panasonic TOUGHBOOK had a 67% revenue share of sales of rugged and durable notebooks and Panasonic Toughpad held a 56% revenue share of sales of rugged business tablets in 2016 (VDC Research, March 2017).
Industrial Medical Vision manufactures applications for various segments such as medical, life science, ProAV or industrial. The product portfolio includes complete and OEM camera systems, providing the freedom to see what can't be seen.
Security Solutions, built on a heritage of providing evidential quality CCTV footage. Delivering the highest image quality in all environmental conditions using our highly reliable, advanced technology cameras and image recording systems, giving you the freedom to feel secure.
Visual System Solutions offers the widest range of professional displays and projectors and allows Audio Visual professionals the freedom to create. It leads the European high brightness projector market with a 39% market revenue share (Futuresource >5klm FY17 Q3, excl. 4K & digital cinema).
About Panasonic
Panasonic Corporation is a worldwide leader in the development of diverse electronics technologies and solutions for customers in the consumer electronics, housing, automotive, and B2B businesses. Celebrating its 100th anniversary in 2018, the company has expanded globally and now operates 591 subsidiaries and 88 associated companies worldwide, recording consolidated net sales of Euro 61.4 billion for the year ended March 31, 2018. Committed to pursuing new value through innovation across divisional lines, the company uses its technologies to create a better life and a better world for its customers. To learn more about Panasonic: http://www.panasonic.com/global