19 Year old partners with FTSE 100 companies to solve UK careers crisis
Tonight over 100 directors and business leaders gather in London for the launch of a new platform and app, Young Professionals UK, created by Dan Miller, an award-winning 19 year old entrepreneur from Derby. Miller started Young Professionals UK in 2015 to help bridge the gap between young people and potential employers.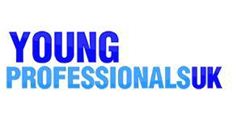 Young Professionals UK logo
Miller, who suffers from dyslexia, came up with the idea for Young Professionals UK whilst still studying for his A Levels and convinced large companies including Barclays, PwC, IBM, Rolls-Royce, ICAEW, Pearson College London, to back his idea and sponsor career events for young people. His student careers and enterprise events company now works with over 250 schools and colleges nationally.
Tonight, the entrepreneur launches a revolutionary multi-media platform that brings together young people looking for either work experience, apprenticeship or graduate jobs, with companies who want to connect with young people. Young Professionals UK is now available at http://www.young-professionals.uk/ the App Store and Google Play.
"This launch will put a powerful career tool into the hands of the UK's young people, allowing them to connect directly with potential employers who need to tap into the country's undiscovered talent base. Young Professionals UK is disrupting the old model of student and graduate recruitment, enabling people to upload their CV and video profile to the site and then manage the whole interview process in one place.
"I have pledged to help more than one million 16-24 year olds connect with employers in the next five years to help solve the national careers crisis for people unsure about how to take that vital next step into work. We have already inspired over 20,000 young people and worked with over 30 multinational companies. With the launch of the Young Professionals UK app, we're on track to achieve that vision," says Dan Miller, Founder, Young Professionals UK.
With the backing of Rockstar Hubs International, Britain's largest and most diversified business mentoring and leadership development company, and support from The Institute of Directors (IoD), tonight's launch event brings together influential employers and potential partners at 80 Strand, London.
"Dan is a fantastic role model for young people and exactly the kind of self-starter that Rock Star Hub is looking to support. He has translated his initial vision into a real business that is going to help other UK companies, both large and small, get direct access to the young rockstars they need to help drive their businesses forward," says Jonathan Pfahl, CEO, Rockstar Group.
ENDS
Contact Details:
For a journalist invitation to the launch event, interview requests, more details or photography.
Jane Henry
Marylebone Marketing
+44 (0)789 666 8155
jane@marylebonemarketing.com
www.marylebonemarketing.com/