Smart City Technology Firm Recognised for Rapid Growth
Cambridge, 11th September 2017 – Telensa, the global leader in connected street lighting and Smart City applications, today announced that it has been named as one of fifteen 'Ones to Watch' in the annual Sunday Times Hiscox Tech Track 100 Report. The fast-growing company recently filed its financial year 2017 accounts, which show revenues of £23M and a profit of £3M. The company's revenues have grown by 90% since 2016, and are 3x those reported for 2015.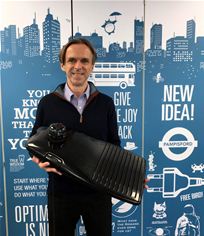 Will Franks Telensa CEO
The Sunday Times Hiscox Tech Track 100 league table ranks Britain's 100 private tech (TMT) companies with the fastest-growing sales over their latest three years. It is compiled by Fast Track and published in The Sunday Times each September.
Telensa's PLANet is the market-leading Central Management System (CMS) for streetlights, with over 80 city and regional networks deployed across 5 continents and a project footprint covering 1.5 million streetlights, including the world's largest deployment in the US. Based on a dedicated low power radio system designed to control millions of devices over wide areas, PLANet future-proofs investments in LED street lighting by enabling dynamic customisation of lighting levels and automatic fault reporting. It also provides cities with an affordable platform for hyper-local sensor applications.
The Sunday Times notes that Ones to Watch firms have hired experienced entrepreneurs to boost their potential. Will Franks, who became Telensa CEO in 2016, sold the telecoms firm Ubiquisys, which he founded, to Cisco for $310m in 2013.
"We are delighted that Telensa has been recognised in the prestigious Sunday Times Hiscox Tech Track 100. This reflects the company's exceptional growth in recent years due to an increasing recognition of the benefits of connected street lighting and demand for Smart City developments," said Will Franks, CEO Telensa. "A small organisation founded in Cambridge has transformed into a global market leader with deployments both in the UK and throughout the world."
The full results were published in a special four-page supplement within the Business section of The Sunday Times on 10th September, both in print and online, and on www.fasttrack.co.uk.
About Telensa
Telensa® makes wireless smart city control applications, including PLANet®, the world's most widely deployed smart streetlight solution, with a global footprint of 1.5 million lights across five continents. Based on a compelling business case with proven scalability, Telensa's solutions provide cities and utilities with a low-cost platform with open interfaces to add multiple sensor applications over wide areas.
Fundamental to Telensa's success is its Ultra Narrow Band (UNB) radio system, which has the unique combination of low cost, long range, long battery life and 2-way communication for massive numbers of devices. Telensa is working alongside other leading vendors within the European Telecommunications Standards Institute (ETSI) to standardise Low Throughput Networks (LTNs) for wireless IoT.
Telensa solutions are designed and developed in Cambridge UK with hardware manufactured with Sony UK Tech in Pencoed, Wales.
Contacts
Temono
Ed Howson
ed.howson@temono.com
T: +44 (0)207 089 8894
M: +44 (0)774 017 3051