Wireless solution will reduce energy and maintenance costs by connecting and managing LED outdoor lights while providing a low-cost platform for other smart sensors
Cambridge, UK Wednesday 22nd May 2019 Telensa – one of the world's leading providers of connected lighting and smart city data applications – based in Cambridge UK, has announced that its smart lighting controls are being deployed as part of the Port of Tyne's LED lighting upgrade project.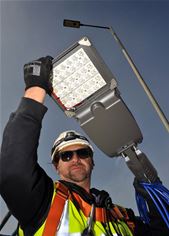 Port of Tyne LED Lighting Installation
The Port of Tyne, in North East England, is one of the UK's major ports - handling a diverse range of cargoes including containers, commodities, manufactured and retail goods, as well as supporting renewables and offshore services. Alongside the installation of Low Carbon Lighting (Raytec) LED lights, the Port's deployment of Telensa's PLANet solution is already underway with over 800 LED lights being connected across the 250-hectare site on the River Tyne, and is expected to be completed by August 2019.
The project to replace all lighting with low energy LED lights with wireless controls is part of the Port of Tyne's infrastructure plan that has seen it continually invest in capital plant and equipment to ensure it can meet the requirements of its customers now and in the future.
Telensa PLANet is an end-to-end intelligent street lighting system, consisting of wireless nodes connecting individual lights, a dedicated wireless network owned by the customer, and a central management application. The system pays for itself in reduced energy and maintenance costs, improves quality of service through automatic fault reporting, and uses streetlight poles for supporting hubs for smart sensors. With more than 1.7 million lights connected globally, Telensa PLANet is the world's most popular connected streetlight system.
Steven Clapperton, Port of Tyne Harbour Master & Director of HSEQ, said: "The Port of Tyne is committed to investing in intelligent infrastructure to develop the Port's long-term future and sustainability.
"Making the Port's outdoor lighting smart will reduce our energy and maintenance costs, and provide greater flexibility to alter light levels remotely across our entire site.
Will Gibson, Telensa Founder and Chief Commercial Officer, said: "We are delighted to be working with Port of Tyne, the latest in a series of deployments at ports and airports around the world as they look to make their lighting adaptive, reduce their carbon footprints and deploy a network for smart sensors."
Ends
About Telensa
Telensa makes wireless smart city applications, helping cities around the world save energy, work smarter and deliver more joined-up services for their citizens. Telensa PLANet is the world's most deployed smart streetlight solution, with a footprint of 1.7 million lights. Building on the compelling business case for its smart streetlighting, the company provides cities and utilities with an open, low-cost platform to add multiple sensor applications. Working with Microsoft and Qualcomm technologies in the Urban Data Project, Telensa is helping cities to build future-proof operations driven by data intelligence, trust and transparency. Telensa is based in Cambridge in the UK, with regional operations in the USA and Australia.
About Port of Tyne
Based in North East England, the Port of Tyne is located on the River Tyne and offers easy asses to word-wide markets – regular coastal and deep-sea shipping connections provide direct access to Northern Europe, Scandinavia and the Baltics
Port of Tyne is one of the UK's major deep-sea ports - operating in bulk and conventional cargo, car terminals, cruise & ferry, offshore and renewables, port centric logistics and estates
From its prime location near Newcastle-upon Tyne the Port has a direct rail link connected to the East Coast Main Line and road connections to the A1, A19 and M62
Overall the Port of Tyne adds some £690 million gross value added to the economy of North East England supporting over 14,000 jobs directly and indirectly
Media Contact
Richard Howson
Temono for Telensa
richard.howson@temono.com
+44 (0)7833 693 862