Available for Free on iOS, Android and Blackberry Touch devices
LONDON, 18 February 2013 – Telmap, pioneers in mobile location-based services, released today a special edition of its direct-to-consumer app M8, your local mate tailored specifically for participants of Mobile World Congress (MWC) in Barcelona. M8 for MWC is offered in both English and Spanish and is specifically designed to allow people attending the show from around the world to feel like locals while in Barcelona this year. Offering a wide array of practical features, M8 for MWC allows users to explore Mobile World Congress, find local restaurants with reviews and table booking, find hotels and make reservations, find special offers nearby, check-in via Facebook, discover the city of Barcelona through the integration of leading travel guides and navigate by car or on foot.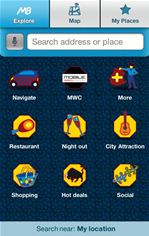 MWC M8 homepage
To assist in getting around Mobile World Congress, a dedicated "MWC" widget has been added to the home screen of M8 for MWC. From this widget, attendees have access to valuable information such as an indoor map of the exhibition, a complete directory of all exhibitors, taxi, metro station and ATM finder. What's more, users will be prompted to download their respective country's M8 once they leave Barcelona (where applicable).
Staying true to Telmap's commitment of offering local market content, M8 for MWC is loaded with some of the most recognized and reliable content providers in Spain:
Paginas Amarillas | A comprehensive business directory for local search around Barcelona

El Tenendor | A premiere restaurant guide with reviews/ratings & table booking

HRS | Hotel Reservation Services where users can find, learn about and book hotels

Coupies | Local deals & coupons nearby as well as the ability to redeem them from within M8

TripAdvisor and Lonely Planet | Travel guides packed with Barcelona information, points of interest and even nightlife
"Business travel in an unfamiliar city that's packed with convention attendees can get a little intimidating. We are excited to provide participants of Mobile World Congress with a local and familiar feeling while staying in Barcelona this year. Our exclusive special edition of M8 for MWC will enable users to find and book a table in city restaurants, make their way safely back to their hotels, access exhibitors and venue information from within the app, find deals for their must-do shopping, locate the nearest metro station or ATM, and hopefully make their business travel experience easier and a lot more fun and less intimidating."
– Tsipi Joseph | Director of Marketing, Telmap an Intel Company
Telmap, which is an Intel company will be presenting at MWC as part of Intel. You are invited to come and visit us in one of the Intel booths, or contact us at Telmap@ libertycomms.com, to coordinate a briefing.
Intel booths:
Hall 3, booth #3C34
Hall 8.1 (App Planet), booth # 8.1E20
M8 Mobile World Congress Edition | Download Links:
Download M8 MWC for Android
Download M8 MWC for iOS
Download M8 MWC for BlackBerry Touch Devices
- ENDS –
Notes to Editors
About Telmap
Telmap, which is an Intel company since 2011, is a world leader in mobile location-based services. Telmap provides mobile operators with cloud-based, managed location-based services that are fully designed to open new business opportunities and generate new revenue streams. Telmap is also providing the same service with its own branded mobile application called M8, your local mate. The company has established a solid reputation for providing its customers with innovative, value added end-to-end mobile location based services that enrich on-the-go experiences through integration of local content, community interactions, and relevant retail offers.
The Telmap end-to-end offering is comprised of three parts: First, Telmap's flagship product, the Mobile Location Companion application that caters to all users' needs while out and about, with location central to everything: social interactions, deals and promotions, exploration of one's surroundings, and more. Second, the Telmap offering includes a robust location platform with a set of APIs that are designed to support Telmap customers and third party developers in delivering a strong LBS strategy and are available through the Intel Developer Program. And third, a full set of professional services such as porting, billing and local content integrations, channel marketing, business intelligence and more.
Telmap is the #1 provider of choice for mobile location-based services and its technology has been selected by leading industry players such as Orange France, Vodafone, Vodacom, Cell C, SFR, O2, Telefonica, SingTel, OPTUS, Cellcom, Pelephone, Partner and more.
For more information, please visit http://www.telmap.com/, or look for the Telmap and M8 pages on Facebook.
For further information on Telmap, please contact Liberty Communications:
Rosanna Yusuf/ Hayley Myles
T: +44 (0) 20 7751 4444
E: ryusuf@libertycomms.com / hmyles@libertycomms.com