Partners up with Sony Music
LONDON, 8 August, 2012 – Telmap, pioneers in mobile location-based services, announced today a new partnership with Sony Music, the globally acclaimed recorded music company. This recent collaboration allows users of the Telmap Mobile Location Companion to choose from a selection of voices that will guide their navigation sessions. Enhancing the user experience through personalization is in-line with Telmap's mission of providing people with instant, relevant, reliable and fun information while on-the-go.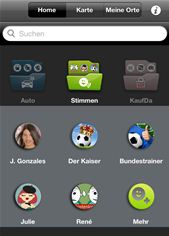 Telmap voices homepage
Telmap voices from Sony Music launched in June around the excitement of the European Championships and are currently available to Vodafone Germany users through Vodafone's Find&Go app. The launch offered two European Championship themed parody voices recorded by famous German comedian and radio personality, Chris Böttcher. In July a new SpongeBob Squarepants voice was introduced and additional voices are in the pipeline. Users can download these voices for a one-time purchase of 4.99€ per voice with no restrictions on usage. Telmap is planning to offer Sony Music themed voices in other territories and through other carriers in the near future.
"We are excited to collaborate with Sony Music in offering a selection of location-specific voices that will provide a fun factor to our users' navigation experience. This added-value offering plays well into our efforts of delivering a truly local user experience by providing the voices of local celebrities and figureheads who are relevant to specific territories and thereby appealing to specific users." – Tsipi Joseph, Director of Marketing, Telmap.
"With Telmap we have found the ideal partner for us and our navigation system voice program which is active in 27 territories. We plan to expand our product range further in the future and trust that we will realize more exciting projects with Telmap on our side." – Daniel Federauer, Business Development Manager Sony Music Entertainment.
- ENDS –
Notes to Editors
About Telmap
Telmap, which is an Intel company since 2011, is a world leader in mobile location-based services, providing mobile operators with cloud-based, managed location-based services that are fully designed to open new business opportunities and generate new revenue streams. The company has established a solid reputation for providing its customers with innovative, value added end-to-end mobile location based services that enrich on-the-go experiences through integration of local content, community interactions, and relevant retail offers.
The Telmap end-to-end offering is comprised of three parts: first, Telmap's flagship product, the Mobile Location Companion that caters to all users' needs while out and about, with location central to everything: social interactions, deals and promotions, exploration of one's surroundings, and more. Second, the Telmap offering includes a robust location platform with a set of APIs that are designed to support Telmap customers and third party developers in delivering a strong LBS strategy and are available through the Intel Developer Program. And third, a full set of professional services such as porting, billing and local content integrations, channel marketing, business intelligence and more.
Telmap is the #1 provider of choice for mobile location-based services and its technology has been selected by leading industry players such as Orange France, Vodafone, Vodacom, Cell C, SFR, O2, Telefonica, SingTel, OPTUS, Cellcom, Pelephone, Partner and more.
For more information, please visit www.telmap.com, or look for the Telmap page on Facebook.
For further information on Telmap, please contact Liberty Communications:
Rosanna Yusuf / Hayley Myles
T: +44 (0) 20 7751 4444
E: Telmap@libertycomms.com
About Sony Music Entertainment
Sony Music Entertainment is a global recorded music company with a current roster that includes a broad array of both local artists and international superstars. The company boasts a vast catalog that comprises some of the most important recordings in history. It is home to premier record labels representing music from every genre, including Arista Nashville, Beach Street Records, Bystorm Entertainment, Columbia Nashville, Columbia Records, Day 1, Epic Records, Essential Records, Flicker Records, Kemosabe Records, Legacy Recordings, MASTERWORKS, Polo Grounds, RCA Records, RCA Nashville, Reunion Records, Roc Nation, Sony Classical, Sony Music Latin, Star Time International, Syco Music, Verity Music Group and Volcano. Sony Music Entertainment is a wholly owned subsidiary of Sony Corporation of America.
About Vodafone Germany
Vodafone Germany is one of the largest and most modern telecommunications providers in Europe. It realises turnover of more than nine billion euros and has 12,000 employees. Based in Düsseldorf, Vodafone Germany is a one-stop innovative and integrated technology and service provider with a portfolio including mobile communications, fixed network telephony, internet and broadband data services for business and private customers. Continuous development, numerous patents and investments in new products, services and the modern network have made Vodafone an innovation leader in the German telecommunications market. In July 2011, the Stiftung Warentest consumer organisation tested all four of the German network operators' networks and gave the Vodafone network the quality rating of 'Good' (2.4).
Vodafone is committed to CSR. The German Vodafone Foundation is a socio-political think tank that initiates and supports numerous projects in the fields of education, integration and social mobility. The company is part of the Vodafone Group. Visit the website at www.vodafone-deutschland.de for further information.