Revolutionary Card Crafting system brings new gameplay dynamic to mobile collectible card games
Wroclaw, Poland - 16 September 2014 - Veteran mobile game developer Tequila Games today announced its forthcoming digital collectible card game Earthcore: Shattered Elements on iOS for iPad & iPhone. Promising to bring a completely new gameplay experience to the popular collectible card game (CCG) genre, Earthcore: Shattered Elements introduces a unique new gameplay feature called 'Card Crafting'. Utilising cards in their collection, players will have the ability to fuse cards together and create brand new, powerful ones, thereby adding over 500,000 strategic gameplay possibilities to their deck.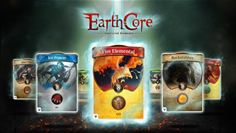 Earthcore: Shattered Elements Screenshot 2
Earthcore: Shattered Element's gameplay further refreshes the genre through its 'Elemental' battle system. Based on the universally familiar 'rock, paper, scissors' mechanic, players collect cards, construct their decks and take control of fire, water and nature Elements to defeat their opponents in epic duels.
As well as the Elemental battle system, a new risk-based gameplay mechanic further injects tension and strategic possibilities into Earthcore: Shattered Elements by assigning a 'risk' value to each card. The more special skills a card possesses, the higher its risk value and the higher the loss caused to the player if they are defeated, meaning that players must now gamble which cards to use on each turn. Earthcore: Shattered Element's unique combination of Elemental battle system and risk-based gameplay replaces the mechanics of armor, hit points and mana that are familiar to many CCG players, offering them entirely new strategies and ways to play.
"Following on from our history of creating successful casual games, Earthcore: Shattered Elements represents a big step forward and a very significant investment for Tequila Games. We are targeting both mid and hardcore players with a AAA title in a genre our team knows and loves" said Lukas Deszczulka, CEO, Tequila Games. "We're currently working with some very experienced tabletop game design experts to innovate the CCG genre and we've invested heavily in the single player story-driven campaign which is often neglected in games of this type. We're sure that both new and experienced players alike will find Earthcore: Shattered Elements very different to anything that they've played before."
Created for novice and seasoned players alike, Earthcore: Shattered Elements features a richly detailed, story-driven, single player campaign as well as a deep multiplayer mode for player vs player duels, leagues and championships. Tequila Games intends to keep the game regularly updated with new monthly 'chapter' updates to the single-player campaign as well as releasing new cards and skills on regular basis. More features will be announced soon.
Earthcore: Shattered Elements is expected on Q1 2015, but more information on the launch will be released later this year via the official website and blog at http://www.earthcoregame.com/
------- END -------
Notes to the editor
A video trailer is available at: http://youtu.be/KqJ8XB-DHe0
More information about Earthcore will be published on the official website: http://www.earthcoregame.com/
A screenshot pack is available at: http://www.earthcoregame.com/media-kit/Earthcore-Shattered-Elements-Announcement-Media-Kit.zip
Follow the game on Facebook for exclusive content: www.facebook.com/earthcoregame and Twitter: @earthcoregame
About Tequila Games
Tequila Games is a Polish independent developer of free-to-play games for smartphones and tablets, including critically acclaimed Fantasy Kingdom Defense and BattleFriends at Sea. Our games have been downloaded by over 10 million players to date. Currently we're working on a high-quality collectible card game called Earthcore: Shattered Elements.
Media contacts
Marcin Traczyk, PR Specialist, Tequila Games: marcin.traczyk@tequilagames.com
Valentina Ciolino, PR Account Manager, dimoso.com: valentina@dimoso.com 02070332660