Macclesfield, Cheshire, UK – 12th February 2016 - CottrillsReward were proud to receive an award from Tesco PLC to highlight the longevity of the business relationship between the two organisations since 1995. Judith Nelson, UK Personnel Director of Tesco PLC remarked that the occasion was to: "celebrate 20 years of working with CottrillsReward to make every long service celebration special for our colleagues."
CottrillsReward reciprocated by presenting Tesco PLC with a gold disc to mark 100,000 long service awards successfully delivered to Tesco PLC employees. Over the years CottrillsReward have embraced new technologies and listened to their client's needs in-order to innovate and provide a complete service for businesses to manage their reward and recognition programmes.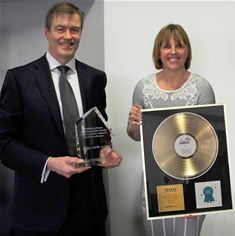 Paul Calnan, Managing Director – CottrillsReward, Judith Nelson, UK Personnel Director – Tesco PLC
Paul Calnan, Managing Director of CottrillsReward stated upon receiving the award from Tesco PLC:
"Employee long service awards are about much more than the award itself, for Tesco PLC it is an overt demonstration to current staff and future recruits that the organisation cares for and places real value on sustained commitment and dedication from employees without which no business can grow and prosper.
For the employee a long service award is the time when they are placed in the spotlight among their peers in their workplace, they can recall people and past-times, good and bad and are the living narrative of the business, newer colleagues will listen and learn and connect to the ongoing values of the business and look forward to the future.
Importantly the employee will go home to their family and show them that all their hard work has been properly recognised by the company with appropriate gravitas and importance. We have worked very closely with Tesco's Reward Team to develop a new and bespoke online portal to consolidate all their award options into one place, enabling easy access for their recipients and delivering improved controls and reporting for the management team."
Note to Editors / About CottrillsReward
CottrillsReward - Rewarding the people that matter to your business
www.cottrillsreward.com/about-us
It's the passion, knowledge and commitment to delivering great results that makes CottrillsReward the reward, recognition and incentives company that is trusted by over 500 clients in every B2B sector in the UK.
With over 25 years of industry experience (established since 1990), we have partnered with our clients to provide engaging bespoke schemes and we take pride in delivering an excellent service with the highest levels of care for the recipient's experience taken at every stage.
Some of the biggest names in British business such as Tesco, Ford and Jaguar Land Rover trust us to deliver and manage schemes on their behalf.
www.cottrillsreward.com/get-in-touch
Address: The Picturedrome, Chestergate, Macclesfield, Cheshire, SK11 6DU.
Telephone: 0344 826 2008
Email: sales@cottrillsreward.com
LinkedIn: www.linkedin.com/company/cottrillsreward
Twitter (@CottrillsReward): www.twitter.com/cottrillsreward
Facebook: www.facebook.com/CottrillsReward