Nonthaburi, Thailand. September 1, 2015 – Thaicom Plc is pleased to announce the appointment of Mr. Paiboon Panuwattanawong to take up the roles of Chief Executive Officer of Thaicom (CEO-THCOM) and the authorized director of Thaicom on October 1, 2015.
The previous CEO, Ms. Suphajee Suthumpun, will assume the role of Advisor to the Chief Executive Officer to support the new CEO during the leadership transition period from October 1 to December 31, 2015.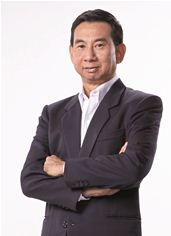 Mr. Paiboon Panuwattanawong
The company would like to take this opportunity to extend heartfelt appreciation to Ms. Suphajee on her many contributions to Thaicom and the INTOUCH Group. During her four years at Thaicom, Ms. Suphajee dedicated herself to creating sustainable growth and success for Thaicom and the INTOUCH Group. Her efforts and accomplishments have been widely recognized and honored by many reputable customers and Thai and international institutions alike. She now feels that it is the proper time to pass Thaicom into the hands of a new leader who will continue to drive Thaicom to new levels of success.
Over the past few years, the company has been implementing a succession plan in order to ensure business continuity. Mr. Paiboon was identified as the natural successor to Ms. Suphajee as CEO. He has been with Thaicom for 23 years, with the last six in the role of Chief Technical Officer.
The company firmly believes that Mr. Paiboon is the right choice to assume the CEO role and to build on the achievements of Ms. Suphajee in steering the company towards the next phase of long-term growth and success.
Mr. Paiboon received his Bachelor of Engineering (Electronics) from Yale University and later, received Master of Engineering (Electronics) from Carnegie Mellon University in the US. He also attended the Directors Certification Program at Thai Institute of Directors Association in 2009. He has in-depth knowledge of the satellite industry. His prior role as Chief Technical Officer showcases not only his technical ability but also his experience in people management.
###
About THAICOM
THAICOM Public Company Limited, a leading Asian satellite operator, was established in 1991. The Company was the first to launch a broadband satellite in the world, and is a leader in developing integrated solutions for satellite broadband and broadcast services. The Company's engineering teams provide leading-edge innovative solutions for satellite-based telecommunications services. Since its establishment the Company has launched seven satellites, with four satellites in operation: THAICOM-4 (IPSTAR) provides a variety of broadband and data services, including cellular backhaul, mobility, government USO support, content delivery, business continuity and emergency services in thirteen countries in Asia Pacific. THAICOM-6 is to expand the Company's broadcast carrying capacity in SE Asia and Africa (by the name "AFRICOM-1") and is collocated with THAICOM-5 at 78.5 degrees East; the satellites board a combined 700 TV channels both in SD and HD formats. THAICOM-7 was launched in September 2014 to provide media & data services for Asia's and Australasia's entertainment and telecom industries at 120 degrees East. THAICOM-8 will be launched in 2016 to expand Thaicom's servicing capacity and footprint in the region.
THAICOM is traded on the Stock Exchange of Thailand (SET) under the trade symbol "THCOM".
PR CONTACT:
Thaicom
Torsten Notzke
(66 2) 596-5083
torstenn@thaicom.net
Proactive PR for Thaicom
Louis Peake
(44 1) 636-812152
louis.peake@proactive-pr.com