RSA Conference, San Francisco – March 1st, 2013 – Thales, leader in information systems and communications security, announces that Info Security Products Guide, the industry's leading information security research and advisory guide, has named the Thales Datacryptor line of network encryption solutions Gold Winner of the 2013 Global Excellence Awards in the Best Encryption category. The prestigious global excellence awards recognize Thales as a global leader in the security industry with advanced, ground-breaking products and solutions.
More than 50 judges from a broad spectrum of industry voices around the world participated and their average scores determined the 2013 Global Excellence Awards Finalists and Winners. Winners were announced during an awards dinner and presentation on February 27, 2013 in San Francisco attended by finalists, judges and industry peers.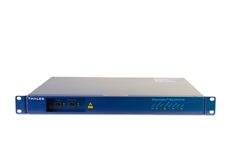 Datacryptor Ethernet Layer 2-1Gbps
The Thales Datacryptor network encryption product family has provided network security to enterprise and government organizations for more than 20 years. Datacryptor solutions provide secure, efficient, and scalable data transport for a variety of Layer 2 point-to-point and multipoint applications as well as Layer 3 IP. These tamper-resistant devices protect data confidentiality using the strongest commercial and government encryption algorithms with sophisticated key lifecycle management and storage techniques, while offering significantly lower latency than software encryption capabilities embedded in common network devices such as switches and routers. Datacryptor solutions make it possible for organizations to utilize the most cost-effective data transport medium available, while also meeting or exceeding business and regulatory requirements for data privacy and confidentiality. Specifically designed to ease maintenance and minimize cost of ownership, Datacryptor products are certified to the highest levels, including FIPS, Common Criteria, the UK government CAPS (CESG Assisted Products Service) standards, NATO and the U.S. Defense Information Systems Agency's Unified Capabilities Approved Products List (DISA UC APL).
Cindy Provin, president, Thales e-Security, Inc., says:
"Encryption is taking center stage as a critical part of an organization's IT security strategy, in order to mitigate the risk of data breaches and cyber-attacks and to protect an organization's brand reputation, as disclosed in our latest 2012 Global Encryption Trends Study conducted by the Ponemon Institute. We are proud to be recognized as an industry leader with the Thales Datacryptor solution winning the Best Encryption Gold Award in the Info Security Products Guide Global Excellence Awards. Thales has been at the forefront of security technology for more than 40 years and this recognition further demonstrates our commitment to delivering innovative and high quality security solutions that enable our customers to protect their most valuable assets and business processes."
For industry insight and views on the latest key management trends check out our blog www.thales-esecurity.com/blogs
Follow Thales e-Security on Twitter @Thalesesecurity, LinkedIn, Facebook and YouTube
About Info Security Products Guide
Info Security Products Guide sponsors leading conferences and expos worldwide and plays a vital role in keeping end-users informed of the choices they can make when it comes to protecting their digital resources. It is written expressly for those who are adamant on staying informed of security threats and the preventive measure they can take. You will discover a wealth of information in this guide including tomorrow's technology today, best deployment scenarios, people and technologies shaping info security and market research that facilitate in making the most pertinent security decisions. The Info Security Products Guide Awards recognize and honor excellence in all areas of information security. To learn more, visit www.infosecurityproductsguide.com and stay secured.
About Thales e-Security
Thales e-Security is a leading global provider of data encryption and cyber security solutions to the financial services, high technology, manufacturing, government and technology sectors. With a 40-year track record of protecting corporate and government information, Thales solutions are used by four of the five largest energy and aerospace companies, 22 NATO countries, and secure more than 80 percent of worldwide payment transactions. Thales e-Security has offices in Australia, France, Hong Kong, Norway, United States and the United Kingdom. www.thales-esecurity.com
About Thales
Thales is a global technology leader for the defence & security and the aerospace & transport markets. In 2011 the company generated revenues of €13 billion with 67,000 employees in 56 countries. With its 22,500 engineers and researchers, Thales has a unique capability to design, develop and deploy equipment, systems and services that meet the most complex security requirements. Thales has an exceptional international footprint, with operations around the world working with customers and local partners. www.thalesgroup.com
Contact:
Ben Leong
Hotwire PR
thalesesecurity@hotwirepr.com
020 7608 8358