19th May 2014 - Thales has announced that it has formally handed over the last of the Deployable Communications & Information System (DCIS) modules to EDF Energy NGL at the W H Bence site at Yate, near Bristol.
In total, Thales has delivered five DCIS modules to EDF in eight months as part of a £5m contract.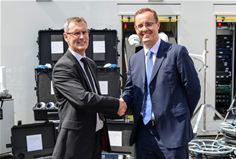 Hand shake between Thales and EDF
The Thales DCIS solution forms an integral part of the EDF Japanese Earthquake Response Programme capability, which was instigated following the Fukushima event in March 2011.
Each DCIS comprises two completely self-sufficient, rapidly-deployable modules for use in a Beyond Design Basis (BDB) event, and contains a range of equipment primarily for the collection, storage and dissemination of critical data from a nuclear power station to key decision makers.
Delivered on time and in budget, each DCIS capability is to be deployed to storage depots across the UK. The fully operational DCIS capabilities will now be kept at high readiness and utilized in support of exercises to maintain the skills and experience of EDF personnel in the deployment and operation of this important BDB event capability.
- Ends -
Note to Editors:
The DCIS design uses Commercial Off The Shelf (COTS) equipment, has a low through-life support footprint and will provide EDF-Energy NGL with a robust, rapidly-deployable communications capability, in the highly unlikely event that a response to a BDB scenario should be required.

Thales DCIS will enable EDF-Energy NGL to meet the regulatory requirement to deploy resilient communications as part of wider ranging capabilities to recover from an extreme natural event in the UK.
For further information, please contact:
John Warehand
Thales UK
07817 455409
john.warehand@thalesgroup.com