Global awards for enterprise IT startups announce shortlist: Voting is now open
London, UK – 19th December 2018 – The Tech Trailblazers Awards, the first annual awards program for enterprise information technology startups, has announced a shortlist of the most innovative entrants and concepts in enterprise technology. The shortlist, judged by a panel of IT industry heavyweights, is now open to public vote.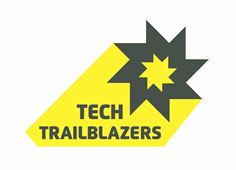 Tech Trailblazers Awards logo
Now in its seventh year, the scheme continues to focus around the ethos of finding innovation from anywhere in the world, from the smallest startups to more established players. This aim to highlight both up-and-coming and established talent from all regions is reflected in the Firestarter Award for non-VC funded early stage startups.
The voting public can now help determine who will win in all categories. To view the shortlist and vote online visit http://www.techtrailblazers.com/shortlist. Voting closes 11.59 Pacific Time Wednesday 16th January 2019.
Rose Ross, founder of the Tech Trailblazers Awards, said "Our expert judges have highlighted the star quality entrants and now the public can help decide which innovations deserve the Tech Trailblazer title. The quality of concepts and offerings amongst our entrants this year has been incredibly high, so we're proud to announce the diverse shortlist. Congratulations to all finalists, it's now time for the voting public to influence the competition. We eagerly await the results!"
Tech Trailblazers Awards Seventh Edition Finalists
Artificial Intelligence
Balbix Inc.
Datavisor
Directly
Imanis
mabl
ParallelM
Big Data
Crate.io
DriveScale Inc.
LIEP Events
Signafire Technologies Inc.
Zirca Digital Solutions
Cloud
Aparavi
6point6 Cloud Gateway
Consent Systems
Fauna Inc.
LIEP Events
Platform.sh
ZeroStack Inc.
Containers
Aqua Security
Diamanti
Hedvig
Portworx
Developer
Platform.sh
Rimo3
Snyk
FinTech
CognitiveScale
DataVisor
Divido
Elsen Inc.
IoT
FogHorn
Gospel Technology
Mojio
Zingbox Security
Mobile
Secured Communications
Staff Connect
Swirl Networks
Xperiel Inc.
Security
Aqua Security
Balbix Inc.
BigID
ConsentEye
CyNation
Demisto
Snyk
Versa Networks
Storage
Amber
Cloud Daddy Inc.
Hedvig
OpenIO
StorageOS
Vexata
WekaIO
Firestarter
Apptega
6point6 Cloud Gateway
ConsentEye
LIEP Events
Lucy Security
mabl
Female Tech Trailblazer of the Year
Daniela Menzky, COO,CyNation
Dr. May Wang, CTO & Co-Founder, Zingbox
Geraldine Osman, CMO, Staff Connect
Nisha Talagala, Co-Founder & CTO, ParallelM
Neena Dasgupta, CEO & Director, Zirca Digital Solutions
Male Tech Trailblazer of the Year
Alex Hertel, CEO, Xperiel
Kabir Barday, Founder & CEO, OneTrust
Neil Briscoe, CTO, 6point6 Cloud Gateway
Richard Van Staten, Founder & CEO, Quantam Solutions
Sivan Metzger, CEO, ParallelM
Media Contact
For Tech Trailblazers
Vicki Porter
Omarketing
Innovate@techtrailblazers.com
UK: +44 (0)20 8255 5225
About the Tech Trailblazers Awards
www.techtrailblazers.com @techtrailblaze
Tech Trailblazers is a new concept in awards, designed explicitly for smaller businesses and startups that are six years old or less and at C-series funding or below. The awards have low barriers to entry and recognise startup innovation and proactively help startups grow their business. The awards include the following categories:
Artificial Intelligence
Big Data Trailblazers
Cloud Trailblazers
Container Trailblazers
Developer Trailblazers
FinTech Trailblazers
Firestarter Trailblazers
IoT Trailblazers
Mobile Trailblazers
Security Trailblazers
Storage Trailblazers
Female Tech Trailblazer of the Year
Male Tech Trailblazer of the Year