Steampunk-style murder/mystery adventure coming to PC, Mac & Tablets
Paris, FR - 11 November 2013 - Independent game developer Mando Productions today announced that their highly anticipated title The Dead Flowers Case is now open for backing on Kickstarter. Mando Productions, led by the creative minds behind best-selling classic adventure game Syberia, has teamed up with acclaimed Steampunk sculptor and artist Stéphane Halleux, to bring his amazing universe of characters to life in a point and click murder mystery adventure for PC, Mac and Tablets (Android and iOS). Stéphane Halleux is also the creative force behind 'Mr Hublot', recently shortlisted in the Best Animated Short Film category in the 86th Academy Awards.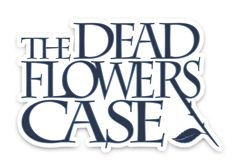 The Dead Flowers Case logo
Backers of the project will have a chance to own bespoke items from the game including artbooks and limited edition character statues signed and authenticated by Stéphane Halleux himself. They'll also have a chance to meet the artist and the game developers in Paris.
The Dead Flowers Case is set in a fantasy mechanised "Steampunk" alternate reality in which flowers and plants have long since become extinct and the world runs to (apparent) mechanical perfection. However, this precise order of things is thrown into chaos when the body of a senior employee at a car factory is found dead at his desk. The only clue to his murder are the dead flowers placed by his side. From this point, the player assumes the role of detective, exploring the game's world, questioning its strange and colourful citizens, and uncovering more clues that will eventually unravel the mystery as to who committed the terrible crime. The game's 3D characters are all fully rendered in real-time 3D by the game engine against pre-designed, highly detailed backdrops.
"The Dead Flowers Case is a humorous and visually arresting murder mystery that we're developing in the best traditions of classic point and click adventures so well-loved by fans of the genre," said Michel Bams, Co-Founder of Mando Productions. "By merging Stephan's amazing and striking visual designs with some of the best game developer talent in the business, we're confident that we're creating a unique and memorable game that will be a hit with fans of the genre. Our aim is to create a vibrant gameworld by rendering all the characters in real time 3D against the highly detailed environments."
To develop the game Mando are asking for $290,000. Donations can be made in sums ranging from $1 to $10,000 and investors will receive a range of items that includes T-shirts, soundtrack, limited edition 3D figurines, the chance to be part of the beta test and even a journey to Paris, depending on the level of investment made.
-End-
For more information about the game visit http://bit.ly/DeadFlowersCase
See the Kickstarter campaign on http://kck.st/1bj3nGo
Follow the developers on Twitter @MandoProd or like the Facebook page: https://www.facebook.com/pages/The-Dead-Flowers-Case/540216469377677
About Mando Productions
Founded in 2010, Mando is an independent game development company. The team of around twenty people is led by industry veterans Michel Bams et Olivier Fontenay. The company works on creative and original projects for digital distribution. Previous products include Yéti on fury, Hills of Glory 3D, Babel Rising and Babel Rising 3D (PS3, XBox, PC, Mac, iOS, Android, Windows Phone 7, Rim, Windows 8), Cardboard Castle, Hills of Glory : WW2, Babel Running.
www.mandoproductions.com
Media Contact
For more information please contact
Valentina Ciolino, dimoso
valentina@dimoso.com +44 (0) 207 033 2660