First and only laboratory in the UK to use equipment from Vela Diagnostics

New testing process delivers huge patient benefits in terms of speed, accuracy and reliability yet with costs significantly reduced
August 12, 2019 – The Eastern Pathology Alliance (EPA) announces today that it is to offer Hepatitis C genotyping testing to the wider NHS nationally leveraging its investment in next generation sequencing assays.
Founded in 2012, the EPA has become a centre of excellence for pathology – particularly virology – providing centralised laboratory medicine for the Norfolk and Waveney region. It has selected state of the art equipment from Vela Diagnostics which incorporates Ion Torrent semiconductor sequencing to provide rapid turnaround of results for clinicians and their patients. It is currently the only laboratory in the UK to put this kind of a high tech solution into routine use.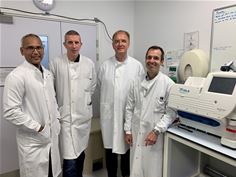 Eastern Pathology Alliance to offer Hepatitis C genotyping testing to the wider NHS
Aimed at other acute NHS Trusts, CCGs and private healthcare providers, the new service will comprise a whole package involving fast testing, clinical interpretation along with guidance and advice about drug selection. Pricing will be based on a per test fee.
HCV infections a major public health threat in the UK
Mainly affecting the liver, Hepatitis C is the only blood born virus which is a curable infection with success rates of between 92-95%. Although a national data set is unavailable, most recent estimates by Public Health England (PHE) show that 160,000 people are living with chronic Hepatitis C virus infections in the UK.
The use of next generation sequencing assays enables detailed analysis of the genetic material of the Hepatitis C virus (HCV) to confirm its strain – predominantly genotypes 1 and 3 in the UK – and the determination of resistance mutations. This information is crucially important for clinicians so they can then prescribe the optimum mix of drugs to treat the virus.
Dr Samir Dervisevic, a Consultant Virologist and the Clinical Lead for Virology at the EPA's Microbiology Department explains, "In May 2016, the UK signed up to the World Health Organization strategy on viral hepatitis which commits participating countries to the elimination of Hepatitis C virus as a major public health threat by 2030. In England, HCV treatment is centrally funded and the NHS England direct acting antiviral (DAA) treatment programme continues to be rolled out with several medications authorised. Given this, ascertaining the genotype strain before treatment starts is recommended especially as the duration of treatment among other factors depends on the virus genotype."
Samples collected from patients in Norfolk used to be referred to a private laboratory for HCV genotyping. When drugs were prescribed but the treatment failed – which could be due to virus resistance to a particular directly acting antiviral drug – blood samples were then sent to the Reference Laboratory in London for resistance profiling. Due to the turnaround time, some patients actually had to wait a prolonged period in order to receive the results and be re-treated.
This time consuming and long winded process – often taking months - slowed down the effective delivery of clinical services. Furthermore, samples were split, testing was overly costly and – most importantly – there was a significant distress for patients given the time involved.
Dr Dervisevic adds, "We've opted out of referring samples to these two external laboratories and instead invested in the latest cutting edge solution of our own which gives us automated workflow from sample to results within just two days so that patients get the right treatment fast. We're now happy to offer our clinical colleagues access to this modern technology so that they receive a quick, accurate and reliable diagnostic service combined with clinical backup and expertise."
New HCV testing enabled by vendor neutral managed services
With a small physical footprint, the compact Vela Diagnostics technology – a combination of a Sentosa SQ Genotyping Assay and Sentosa ST401 instrument unit - is perfect for use in a busy space constrained laboratory setting. The EPA has installed both working in close collaboration with its established vendor neutral managed services partner, Genmed.
The use of a managed services contract (MSC) has meant that the EPA has been able to introduce the new test equipment rapidly and benefit from a pay-to-use approach.
Reenesh Prakash, EPA microbiology network manager explains, "The contract we've signed is an interesting one. We've agreed with Genmed and Vela Diagnostics the volume of work we'll deliver over time and adopted a tax efficient MSC where we're charged per reportable test."
In addition, a MSC provides the EPA with a host of other benefits. First, it is able to reclaim VAT to give the organisation a 20% budget boost. Second, Genmed provides all administrative support related to arranging equipment maintenance and the ordering of consumables. And third, it minimises operational risk as Genmed takes responsibility for equipment uptime with a SLA set at 90% availability.
Robin Modak, Genmed's chief executive officer, said, "We've been able to put in place the best, most modern laboratory equipment for the EPA with an innovative and flexible charging model. The EPA's primary duty is assay performance and the provision of care. But it is the patient who is the real winner from all this - as one would hope - as the time from test to accurate diagnosis has been radically reduced."
- ENDS -
About Eastern Pathology Alliance (EPA)
Serving a catchment area of about 1 million patients, laboratory medicine in the Norfolk and Waveney area is managed by the Eastern Pathology Alliance Network (EPA) – a joint venture established in 2012 between Norfolk & Norwich University Hospital, the James Paget University Hospital and the Queen Elizabeth Hospital Kings Lynn. The creation of the EPA has centralised pathology across the three hospitals – with laboratories 0n each site - and a hub laboratory located at Norfolk & Norwich University Hospital. Employing 400 staff, the goal of the EPA is to provide a common pathology service across the network to deliver greater efficiency and cost benefits with procurement centralised for all.
For further information, visit www.nnuh.nhs.uk/departments/pathology/laboratory-medicine
About Genmed
Founded in 2007 and based in London and Wales, Genmed is a vendor neutral managed service provider specialising in the health sector. It works with 40 NHS Trusts and Health Boards around the country where, to date, it has 220 contracts supporting a variety of clinical disciplines such as pathology, surgery, endoscopy, imaging along with medical records, IT and facilities. Genmed's asset finance requirements are funded by large blue chip partners including Societe Generale and GE Capital. Currently Genmed's contract portfolio totals around £510 million.
Genmed is headquartered in Weybridge, Surrey. For further information, please visit www.genmed.eu
For further information, please contact
Tom Herbst
Tom Herbst PR
T:07768 145571
Email: tom@tomherbstpr.co.uk