NO BRAKES, NO GEAR, NO FEAR!
LONDON, UK – 28th MAY 2012: Independent European developer, Vivid Games, and BSI Speedway Ltd, today announce the release of the official FIM Speedway GP 2012 racing game on the App Store and Google Play.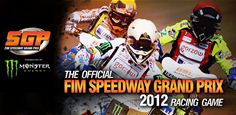 Speedway picture 1
FIM Speedway GP 2012 challenges players bike skills to the limit, as they suit up to compete in the dynamic and compelling world of Speedway, the no brakes, one gear motorbike racing sensation. Set during the 2012 Grand Prix season, players will attempt to leave their opponents in their dust as they veer and power-slide round 12 real-world stadiums, battling against 15 superstar Speedway riders to be crowned the 2012 champion. Live commentary from famous motorsport journalist Tomasz Lorek delivers players the electric atmosphere of the stadium.

Remigiusz Koscielny, CEO of Vivid games said "We're thrilled to have had the opportunity to work with BSI Speedway again to translate the excitement of Speedway into the most exhilarating racing game on mobile devices"
Commenting on the launch of the new game, BSI Speedway's managing director, Paul Bellamy said: "The world championship FIM Speedway GP format is perfect for gaming platforms – it's easy to understand, exciting to play not just for speedway fans but for motorsport and computer game fans across the world. We are very excited to launch the 2012 version and continue the increase in growth of popularity amongst sports fans globally."
Building on the success of its predecessor FIM Speedway GP 2012 has a wealth of new and enhanced features combining stunning 3D visuals and intuitive one-touch controls to deliver the ultimate heart-pounding racing experience.
Game Features:
Rich 3D graphics and stunning gameplay that puts you right in the middle of the action

Race around 12 real-world circuits against 15 riders from the 2012 season

Evaluate your race performance and tweak your strategy with 3D replay mode

Play in either Casual or Pro gameplay modes

Purchase upgrades to improve your performance
FIM Speedway GP 2012 is a universal app and is available now for £1.49/$1.99/€1.59 on iOS and Android devices. App Store Link: http://bit.ly/KmUyR1 Google Play Link: http://bit.ly/KmUuQY
See FIM Speedway GP 2012 in action in the gameplay trailer here: http://www.youtube.com/watch?v=aTbJh8oQfvs
All the game assets are available here: https://www.dropbox.com/s/uteuk55b0371vxt/Digital%20Press%20Kit.zip
Follow all the latest Speedway Grand Prix news and results on Facebook at: http://www.facebook.com/speedwaygp and Twitter: @SpeedwayGP
Note to Editors:
BSI Speedway
BSI Speedway is an IMG company and rights holders of the FIM Speedway World Championships: FIM Speedway Grand Prix (SGP) and FIM Speedway World Cup (SWC). www.speedwaygp.com
About IMG
IMG Worldwide is a global sports, entertainment and media business, with nearly 3,000 employees operating in 30 countries around the globe. IMG's areas of expertise are diverse and wide ranging: IMG College; IMG's Joint Ventures in China, Brazil and India; IMG Media; IMG Events and Federations; IMG Fashion; IMG Models; IMG Art+Commerce; IMG Clients; IMG Academies; IMG Consulting and IMG Licensing. More information is available at www.imgworld.com
About Vivid Games:
Vivid Games is one of Europe's premier emerging independent development studios, with a passion for accessible and engaging gaming at the heart of its philosophy. Founded in 2006, Vivid Games is making a valuable contribution to the worldwide games development community. Vivid Games has become renowned for its specialization in cross-platform development, working both with licensed brands and exciting new IPs of its own. www.vividgames.com
Media Contact
Charley Grafton-Chuck, Johnny Atom Productions
E: charley@johnnyatom.com
T: +44 (0) 203 176 0139