ZNAP® to help the RFU reduce queues and streamline payments at the world's biggest rugby stadium
London, 12th February 2014: The Rugby Football Union (RFU) has selected ZNAP®, the mobile business platform, as the first, preferred provider of m-commerce solutions at Twickenham. The deal was agreed after a successful trial at the 2013 QBE Internationals. ZNAP® is part of a wider RFU strategy to enhance the match day experience for fans at the 'Home of England Rugby'.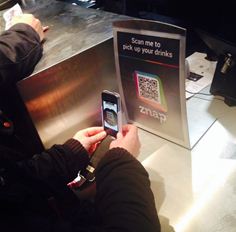 ZNAP POS
ZNAP® is a new mobile app that enables users to place orders, make payments, collect loyalty benefits and more on everything from drinks to ticketing. Fans can use ZNAP® to pre-pay for food and drinks at six bars around the stadium, slashing queuing time. The service will be available at the upcoming RBS 6 Nations games at Twickenham Stadium, where England face Ireland and Wales.
At the QBE Internationals trial, a select group of fans were given the opportunity to download ZNAP® and pre-order food and drinks at specific Twickenham Stadium bars. After ordering, fans went to special Express ZNAP® Pick-Up Queues to scan their code and collect their pre-prepared orders. Increased volume and faster serving times were achieved without the addition of staff, new infrastructure or expanded premises. As a result fans spent less time queuing and more time enjoying the game.
The statistics from the trial match days show just how keen fans were to use ZNAP®:
The first 500 downloaders were given a £5 voucher - 40% of which were redeemed (average redemption rate for vouchers at a sporting event is 3%[1] )
888 people downloaded ZNAP® and 597 people registered for use; a conversion rate of 67%
A total of 1011 items were purchased with an average value of £5
"After passing rigorous tests at the world's biggest rugby stadium, we're delighted to be expanding our offering for fans," said Hooman Mazaheri, European CEO, ZNAP®. "ZNAP® can add value to almost every aspect of the event experience. From buying and storing tickets to pre-purchasing merchandise and refreshments, we expect that ZNAP® will soon become a one-stop shop for event goers everywhere."
"We want match days at Twickenham Stadium to be as enjoyable as possible for fans. We're constantly looking for ways to improve the fan experience by embracing new technologies and innovations," said Sophie Goldschmidt, Chief Commercial Officer, RFU. "We chose ZNAP® because the platform enables us to speed up shopping times, reduce queues and deliver special offers and loyalty rewards. We hope our first foray into m-commerce will make a big difference to fans."
[1] Valassis, 2012
---Ends---
About ZNAP®
ZNAP® is an innovative mobile business platform which optimises transactions through the bundling of secure multi-channel mobile payments with value added solutions such as loyalty integration, business intelligence, geo-location in-app consumer communication, offer marketing and much more. The product was developed by MPayMe, an international high-growth business technology company founded in 2010. Headquartered in Hong Kong and with offices in US, Europe, Asia and Japan, ZNAP® has recently launched in a number of markets around the world with well-known merchants and partners. MPayMe solutions are designed around the needs of merchants and consumers, in order to add value and solve real business problems.
For more information visit http://www.znap.com and http://www.mpayme.com
About The RFU
The Rugby Football Union is the National Governing Body for rugby union in England and supports participants and fans from the grassroots to the national team. For more information visit www.rfu.com
You can keep up to date with all RFU news on @EnglandRugby
The RFU Rose and the words 'England Rugby' are official registered trademarks of the Rugby Football Union and are subject to extensive trade mark registration worldwide.
PR Contacts:
Charlotte Abbott/Libby Cutress at CCgroup for ZNAP
Tel: +44 207 535 7208 - Charlotte
Tel: +44 207 535 7237 – Libby
Email: ZNAPEuro@ccgrouppr.com