Matrix42 completes its holistic Workspace Management portfolio with a new Android app, and new iOS app versions for iPhone and iPad.
LONDON, ENGLAND, 29 September 2014: With today's launch of the new Android app, Matrix42 (www.matrix42.com) users get access to a new dimension in mobile Workspace Management; first and foremost, they can now complete a wide range of management tasks while on the move - intuitively, holistically and on any Android smartphone.
Matrix42 Workspace Management app for Android smartphones
Over the last three years, Matrix42 has continuously developed and improved its range of mobile solutions and integrated platforms for holistic Workspace Management. From today, this high-performance and award-winning portfolio will be enhanced with a powerful Matrix42 Android Phone App that makes life easier for administrators, IT managers and users alike - provided they are already using Matrix42 Workspace Management.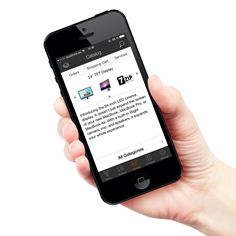 Matrix42 Android App Catalog
"In the mobile era users want easy, fast and secure access to their workspace from any device. IT departments are challenged with this demand and need to ensure complete management for both the technical and business side of the workspace", said Oliver Bendig, CTO at Matrix42. "Now our customers can access their Service Catalog, the Service Desk and their workspaces with multiple mobile devices, and complete their daily tasks more quickly and with less effort from anywhere. We're proud that this new app extends our Workspace Management offering and creates a complete new mobile experience for our customers. We are delighted to be launching it today at the AirWatch Connect event in London."
No limits - efficient and simple IT Service Management to go
Lining up alongside the existing Matrix42 iPhone App and iPad App, the new Matrix42 Android Phone App puts the power of Matrix42 Workspace Management at your users' fingertips, anytime and anywhere. It provides a simple, intuitive interface for end users to access your Service Catalog, place orders, submit help desk tickets, check the real-time status of orders and tickets, view company news, browse the company address book and sync all contacts locally - all from the convenience of their mobile device.
New iOS app versions
Along with the launch of the new Android app, Matrix42 is also bringing two new iOS app versions to market, underlining its commitment to a "360° Workspace Management" philosophy. The focus of the latest release is the optimization of approval processes, and the mobile tracking of Service Catalog orders.
These kinds of innovations influence modern working styles more sustainably than might be apparent at first glance. Tasks or procedures that were labor-intensive become ever simpler and more intuitive, and automation becomes integrated into processes. So, for example, if syncing corporate contact details with a local address book used to be complex, it can now be executed with a simple 'tap' on the device. It's this new level of simplicity that makes users actively want to complete tasks using the Matrix42 apps for Android and iOS.
More information about the comprehensive functionality of Matrix42 Mobile Apps can be found on the Matrix42 website or www.anywhere42.com. The apps can be downloaded for free from various App Stores:
Matrix42 Android App: https://play.google.com/store/apps/details?id=com.matrix42.m42mobile
Matrix42 iPad App: https://itunes.apple.com/de/app/m42mobile-hd/id703369512?mt=8&ign-mpt=uo%3D4
Matrix42 iPhone App: https://itunes.apple.com/de/app/m42mobile/id430536897?mt=8&ign-mpt=uo%3D4
-ends -
Press Contact
Adam Osman
Matrix42 UK
10th Floor
88 Wood St
London
EC3V 7RS
Mail: adam.osman@matrix42.com
Follow Matrix42:
Twitter: @Matrix42de
LinkedIn: www.linkedin.com/company/45631
About Matrix42
Matrix42 is a top provider of software for workspace management. The company offers forward-thinking solutions for modern working environments under its 'Smarter workspace' motto. More than 2,500 customers around the world, including BMW, Infineon and Carl Zeiss, currently manage approximately 2.5 million workstations using Matrix42's workspace management solutions. Matrix42 operates successfully in six countries – Germany, Austria, Switzerland, the Netherlands, Great Britain and Sweden. The company's headquarters are in Neu-Isenburg, near Frankfurt am Main, Germany. Founded in 1992, the company has been part of the Asseco Group, one of Europe's largest software providers, since 2008. Matrix42's products and solutions aim to provide and manage modern working environments, physical, virtual or mobile workspaces, simply and efficiently. Matrix42 focuses on user orientation, automation and process optimization. The company's solutions optimally meet both the requirements of modern employees who want to work from any location using a wide variety of devices and the company's IT operations itself.
Matrix42 offers its solutions to organizations across different sectors who value forward-looking and efficient workspace management. The company successfully leverages close relationships with partners such as Incit Technology, TAP Desktop Solutions GmbH, Consulting4IT GmbH and DSP IT Service GmbH, who provide local implementation and support services to Matrix42 customers.
For further information, visit www.matrix42.com