Small, powerful and eco-friendly, the award-winning C800 Series with unrivalled media handling capabilities delivers professional quality business printing, without compromising on performance
Egham, 1st October 2019 - OKI Europe is giving businesses the opportunity to print more in-house for less with up to €230 cashback[1] on its award-winning C800 Series, A3 colour printers, purchased between 1 October and 30 November 2019.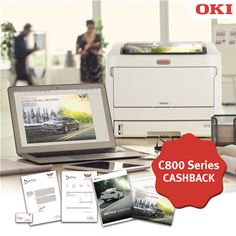 OKI Europe C800 Series
Easy-to-use, ultra-compact and featuring OKI's pioneering digital LED technology, the versatile C800 Series handles a range of media weights and sizes from A6 up to 1.3m, making it ideal for printing on-demand in vibrant HD Colour. From event banners, office signage and posters to professional-standard marketing materials and stationery such as business cards, letterheads, compliment slips and day-to-day business documents, the C800 Series can deliver all this and more.
The smallest A3 colour business printers on the market, the C800 Series includes eco-friendly features such as OKI's innovative energy-efficient fusing technology, saving energy and making it quick to wake-up, warm up and quieten down. All models are Google Cloud Print 2.0 ready, for easy printing on the go. Automatic duplex[2] provides businesses additional flexibility to print more in-house, including sales and marketing documents, and an extended 3 year warranty[3] ensures businesses have complete peace of mind.
Included in the promotion are the versatile C824n and C824dn, delivering day-to-day business printing as well as high-impact sales and marketing collateral. Reliable and fully equipped for light and heavier paper weights up to 256gsm in 1200 x 600dpi resolution, the C824 capably handles documents in A6 up to A3 sizes, including banners up to 1.3m.
Also included, the C834nw and C834dnw offer the same media versatility as the C824 with wireless capability as standard. The C834 delivers outstanding High Definition ProQ2400 multi-level output quality and 1200 x 600dpi resolution, with super-fast print speeds of up to 36ppm.
Benefitting from the same features of the C834 and eligible for the cashback offer[1], the C844dnw takes business printing to the next level with ultra-sharp, high-quality text and images in 1200 x 1200dpi print resolution.
"Small yet extremely powerful, the C800 Series takes away the hassle of outsourcing business printing and gives organisations of all sizes the opportunity to take control and generate outstanding results on-demand," says Lee Webster, General Manager Products & Propositions, OKI Europe Ltd. "Add to this a superb, limited-time cashback offer of up to €230[1] there's even more reason for businesses to buy now and benefit from the smallest A3 colour printer on the market."
To take advantage of this limited time offer, visit www.okieurope.com/promotions.
[1] Terms & conditions apply. Claim up to €230 on C824n/C824dn/C834nw/C834dnw and C844dnw A3 colour printers between 1 October and 30 November while stocks last. Last claim date 30.12.19. Maximum 10 claims per customer, one claim per unit purchased. Cashback value is dependent on model purchased.
[2] Optional duplex on C824n and C834nw. Duplex as standard on C824dn, C834dnw and C844dnw.
[3] Product must be registered within 30 days of purchase.
-End-
Notes to Editors:
About OKI Europe
OKI Europe Ltd is a division of OKI Data Corporation, a global business-to-business brand dedicated to creating cost effective, professional in-house printers, applications and services which are designed to increase the efficiency of today's and tomorrow's businesses.
The company is well-established as one of Europe's leading printer brands, in terms of value and units shipped. For over 60 years OKI Europe has been delivering advanced printing solutions worldwide, introducing ground-breaking technologies that support the needs of businesses large and small. Our pioneering development of digital LED printing technology has placed OKI at the forefront of the market in delivering high-definition, eco-friendly printing devices.
Since the acquisition of the globally-deployed wide format printer business of Seiko I Infotech Inc. a subsidiary of Seiko Instruments Inc. OKI distributes precision-engineered wide-format printing systems specifically for the sign, graphics, CAD and GIS markets that provide industry-leading productivity and image quality. With an EMEA wide network of authorised distributors and dealers OKI Europe Ltd provides complete printing solutions including wide format printers, inks, media, software, installation, support, knowledge and training.
In addition to a vast portfolio of award-winning printers and MFPs, OKI offers a range of services to help optimise print and document workflows. This, together with an integrated suite of software technologies and tools, can help businesses take control of their print and document costs in a secure environment, whether office based, mobile or in the cloud.
Today OKI Europe employs over 500 staff in 15 locations (sales offices and distribution sites) and is represented in 60 countries throughout the EMEA region.
OKI Data Corporation is a subsidiary of Tokyo-based Oki Electric Industry Co. Ltd., established in 1881 and Japan's first telecommunications manufacturer.
Visit www.oki.com/eu for further information.
OKI Europe Ltd: Pamela Ghosal: pr@okieurope.com + 44 (0) 208 2192190
Whiteoaks: Zachary Hodges: zacharyh@whiteoaks.co.uk +44 (0) 1252 727313