UK businesses plan widespread adoption of smartphones
Early adopters see net ROI and are keen to recommend approach
Emerging trends include desktop videoconferencing, FMC and CYOD
Adoption of cloud-based tech finally becomes a reality for UK plc
UK businesses are poised to invest in mobile communications technology in 2015 – including the introduction of smartphones, business apps and desktop videoconferencing – according to a new IT investment study by business communications provider and consultancy, Olive Communications.
The full report can be downloaded here: www.olive.co.uk/techtrends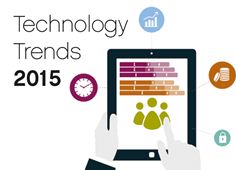 2015 Tech Trends
Following the introduction of rights to request flexible working in the UK in 2014, 2015 will be the "tipping point" for the widespread introduction of smartphones amongst British businesses. More than half (56%) of businesses will have started this investment between 2013 and the end of the year.
Despite their fairly recent adoption of smartphones, more than half (55%) of ICT leaders would already recommend widespread roll-out to their peers while two fifths (42%) believe it is delivering a net ROI.
Other major ICT investment trends in 2015 include industry-specific software applications and desktop videoconferencing technology (51% and 50% adoption rates between 2013 and the end of 2015 respectively) – further demonstrating the shift towards mobile-first and flexible working practices in the UK.
Martin Flick, Chief Executive of Olive, comments: "The tools and processes that ICT leaders are looking to embrace this year show UK firms are entering a new wave of tech-enabled business. With flexible working becoming the norm, not the exception, tech investments are reflecting this. We expect to see a lot more businesses embracing mobile technologies this year and thinking about how they can best support their workforce to work anywhere, anytime, rather than being chained to a desk."
Emerging Trends
In addition to more established technologies, the study identifies a number of emerging tools and approaches with significant adoption rates in the last two years, and steady or growing investment rates in 2015.
These emerging trends include a growing preference for the cloud, with the rate of businesses introducing cloud-based email productivity applications continuing in 2015 (19% last two years, 20% this year). The number of businesses who will move their existing on-premise telephony system to the cloud is also set to double (8% last two years, 16% this year).
The study also highlights continued interest in FMC, or fixed mobile convergence (18% last two years, 15% this year) and or 'choose your own device' (CYOD) policies, where employees choose a device for personal and business use but the business owns the device and contract (12% last two years, 10% this year).
Flick continues: "ICT leaders are understandably cautious about new investments, but those that have taken a leap of faith have seen such positive results and ROI that they are advocating those technologies to their peers. 2015 is set to be a real turning point for the use of communications technology in British businesses. While cloud and business apps have been hot topics for the past few years, we're now starting to see this take a more strategic spot in IT strategies."
The full report can be downloaded here: www.olive.co.uk/techtrends
About The Study
The research was completed in December 2014 amongst 230 ICT leaders, managers and team members in large UK businesses (500+ employees).
Contact Details
T: 0203 675 3112
E: pr@olive.co.uk
About Olive Communications
Olive is the UK's fastest growing business communications provider and consultancy, operating across the four cornerstones of IT infrastructure: voice, data, mobility, and applications.
One of the Sunday Times' Hiscox Tech Track 100, Olive provides innovative and integrated communications solutions for some the UK's best-known businesses including Lastminute.com, Swiss Re's Admin Re, Mace and National Geographic. www.olive.co.uk