Thenue Housing has launched an exciting digital "app" which will provide a new way for customers to engage with the Association. The totally free Self-Service app uses the latest software from 1st Touch (www.1sttouch.com) to offer a range of services via phones or tablets.
Thenue is hailing the app as "great digital advance" and says it is part of its Digital Strategy to ensure that people can contact the Association as easily as possible. Thenue will retain all its existing methods of making contact with the Association, with which many of its customers are already familiar.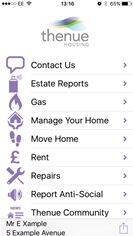 Thenue App
Brian Gannon, Thenue's Head of Housing and Community Regeneration said: "Thenue has been developing its Digital Strategy which sets out in detail how we will maximise our residents' access to the internet by supporting and encouraging them to go online.
"We also want to operate as efficiently as we can in line with our ongoing desire to deliver Value for Money in everything we do. The App is a brilliant way of moving forward digitally.
"Thenue also believes that by providing our own online services for those customers who regularly use the internet, we will free up our staff resources to better assist those tenants that need one to one support from us."
The 1st Touch App is fully integrated with Thenue's back-office housing management system which means tenants can view up to date transactions on their rent account and their repair history. Customers will also be able to report a repair, make a neighbour complaint and make a whole range of service requests - all of which immediately appear on Thenue's system for action by staff.
Greg Johns CEO of 1st Touch welcomed Brian Gannon's comments adding, "Thenue is widely respected as one of the leading lights among housing associations in helping its customers embrace digital advances. We are very impressed with all it is doing to support both customers and communities.
"Particularly impressive is the Association's hugely successful Smart Communities initiative which aims to encourage people of all ages to embrace new technology and learn digital skills such as using the internet including using our self-service app.
"Supporting digital customers' access is an important element of Thenue's strategy and we are delighted that they have chosen 1st Touch to supply their Self-Service app which will drive both customer service and efficiency."
Ends
Note to Editors: About 1st Touch (www.1sttouch.com)
Southampton based 1st Touch, a subsidiary of Aareon AG (www.aareon.com), has enabled dozens of field workforce-based organisations to embrace new mobile technologies and so achieve significant savings, greater productivity and more cost-effective use of resources. 1st Touch Mobile delivers clear and unique benefits: These include the system's acclaimed 'Smart Airtime' feature where 'airtime' is minimised and the system is always available with or without 'airtime'. The system's flexibility through simple customer control over forms creation and amendment is also widely acclaimed. There is Integration to multiple back office and other enterprise software applications, so that data is entered only once.
With its widely acclaimed mobile technology, 1st Touch has a clear focus on the Social Housing and Local Government markets. Many social housing providers and local authorities, at large, now benefit from the fast and tangible, best of breed benefits that 1st Touch mobile technology delivers to the enterprise.
To date, over 50% of the social housing market, which has deployed mobile technology, has chosen to implement 1st Touch. In local government, 1st Touch has already been adopted for a wide range of mobile workforce uses. Ready to use applications for local authority organisations include: Public Buildings, Highways/Street Services, Environmental/Waste Management, Revenues and Benefits, together with Planning Control and Trading Standards.
1st Touch software is available on a wide variety of platforms including: Windows Mobile, Apple and Android.
For further information on 1st Touch please contact:
Cherry Rance
1st Touch
02380 111206
Cherry.rance@1sttouch.com
www.1sttouch.com
Or
Leigh Richards
The Right Image PR & Marketing Group
07758 372527
leigh.richards@therightimage.co.uk
www.therightimage.co.uk