By Tim Crane. Foreword by Sir Geoff Hurst
A unique new perspective on the legendary player through the eyes of his playing peers at West Ham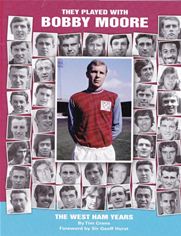 They Played with Bobby Moore cover
Includes hundreds of previously unpublished photographs and contributions from all 89 team-mates of Bobby Moore including:
Sir Geoff Hurst, Sir Trevor Brooking, Martin Peters, Billy Bonds, Frank Lampard Snr, Clyde Best, Jim Standen, Bobby Ferguson and Harry Redknapp.
Hardback, 374 pages, 500 photographs, 250,000 words, then and now player photos. RRP: £25
They Played with Bobby Moore presents the colossal contribution made by the footballing genius through the memories of the men who shared centre stage with him from September 1958 until January 1974.
Bobby Moore played with 89 'Hammers' in West Ham United's first team. His team-mates have never forgotten the experience.
For the first time their stories and unpublished photographs have been showcased in one book:
Billy Bonds tells how the blond haired boy from Barking presented his school's football trophies when Bonds was just 14-years-of-age.
Harry Redknapp recalls the time when Bobby Moore met Frank Sinatra.
Sir Geoff Hurst contributes the foreword and describes the effect Moore's praise had on him.
Martin Peters relates the occasion when Moore first captained West Ham United.
Vic Keeble shares the time when he threw the future England World Cup winning captain out of his house.
John McDowell's debut memories of Moore.
The amusing tale of when Moore saw John Dick's daughter naked!
Bobby Ferguson's telling of Moore's favourite joke.
The moment when Moore introduced Alan Stephenson to James Bond.
The warm friendship shared by Eddie Bovington, Trevor Dawkins, Frank Lampard Snr, Tony Scott, Brian Dear, Ted MacDougall and Jimmy Greaves.
The tireless and selfless help given by Moore to his team-mates as told by Martin Britt, Jack Burkett, Ken Brown, Dennis Burnett, Peter Grotier, Paul Heffer, Bill Kitchener, Bobby Howe and Ade Coker.
The fun and humour as seen through the recollections of Peter Brabrook, Eddie Presland, Colin Mackleworth, Bertie Lutton, Jimmy Lindsay, Pat Holland, Bobby Gould et al. The final interview with Andy Malcolm.
Finally….the families of deceased Hammers John Lyall, Phil Woosnam, Budgie Byrne, John Dick, John Bond, Noel Cantwell, Malcolm Musgrove, Alan Sealey, Graham Paddon et al all contribute heartfelt memories and photographs.
About the author: Since 2002 Tim Crane has been tracking down and interviewing former players of West Ham United for EX Hammers magazine which has its heritage in preserving the contribution made by every player to have pulled on the claret and blue jersey since 1895 to date.
A life-long fan, born in Poplar, his family has been making the journey to the Boleyn Ground since the pre-first World War era. It was during an interview with former 1970s West Ham winger Joe Durrell that Crane decided to set out on this journey: "When sharing the news with Joe that he was one of 89 Hammers to have lined-up with Bobby Moore in West Ham's first team, the effect was highly emotional. I realised I was well placed to ensure that the recollections of all Bobby Moore's West Ham team-mates were captured. I'm delighted to have interviewed the players and families of all 89 Hammers. Every attic, suitcase and shoe box has been explored! The journey has been mesmerising."
Tim Crane is available for interview. Call 07798 934 824 or email: tcrane183@gmail.com
How to order: They Played with Bobby Moore – The West Ham Years
PayPal, credit card and cheque payments: www.bobbymoore89.co.uk, Amazon and eBay.
Book release November 28 2014