Homemade cocktails have topped a poll by Waitrose Cellar in a bid to find the UK's favourite Christmas drink. The 'Festive Favourites' study of 1,000 UK respondents* found that Buck's Fizz is the most favoured alcoholic mixed drink, with nearly a third of the British public (32 per cent) enjoying the champagne and orange juice mix. The classic Irish coffee came in second, preferred by over a quarter of all people (26 per cent), swiftly followed by mulled wine in third place with 25 per cent. Other cocktails in the mix also include gin and tonic, eggnog, buttered rum, mojito and Kir Royal (15 per cent). A broad range of other cocktail choices made up the final two per cent.
For those who prefer their drinks straight up, the survey also revealed that Baileys (20 per cent) and red wine (20 per cent) are the UK's joint favourite alcoholic Christmas drink while Champagne came in second place with 18 per cent of the vote. White wine is next favourite with 13 per cent of people opting for a sauvignon blanc, pinot grigio or other white wine while surprisingly, prosecco came in fourth place with 9 per cent. Although prosecco and other sparkling wines have proved to be a rising trend as the bubbly of choice**, people are still splashing out at Christmas with double the amount opting for the quality bottle of fizz.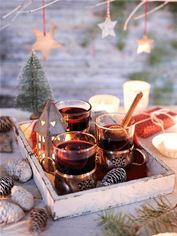 Waitrose Mulled Wine
Favourite Christmas drinks change with age
The poll also found that tastes change with age. Champagne is found to be favourite for under 25s (22 per cent), while a whopping 65 per cent of the over 25- 54 year olds said that they would be most likely to enjoy Irish cream liqueur. As for the 55+ age group, red wine came out top, with over a quarter of respondents (27 per cent) favouring a festive glass of merlot, shiraz or other red.
The nation's top food and wine pairings
When it comes to the perfect food and alcohol combination, a classic combination of mince pies with mulled wine topped the poll with 25 per cent. Second favourite was the pairing of Buck's Fizz with scrambled eggs and salmon, with 7 per cent of the nation choosing to start their day with this traditional breakfast.
Robert McCarthy, Head of Waitrose Cellar, said: "Food and drink are the centre of Christmas Day celebrations, bringing families together to create lasting memories. If customers are looking for Christmas drink ideas to match their festive foods, we've pulled together some useful advice on food and drink pairings as well as festive cocktail recipes for inspiration at waitrosecellar.com. This includes a Middle Eastern inspired twist on the traditional hot toddy and many more."
ENDS
For more information contact:
Isa Lavahun
Consultant
Propellernet
t: 01273 760956
e: isa@propellernet.co.uk
Notes to Editors:
* The survey was of 1,000 people who celebrate Christmas.
Drink-related statistics:
Most women's favourite alcoholic Christmas drink is Baileys or Irish coffee liqueur (18%) while most men favour red wine (11%). Both genders agree with champagne being their second favourite alcoholic drink (14% of women and 10% of men).
Of those who plan to serve Buck's Fizz with food this Christmas, most will be popping their bottles come breakfast with scrambled eggs and salmon (7%), followed (later in the day) by mince pies (2%) and then mixed nuts (1%).
Food & Drink Pairing Statistics:
Mulled wine is the Christmas drink most likely to be paired up with food; 36% of people will be serving it alongside something more substantial.
Of those who plan to serve mulled wine with food this Christmas, most will be dishing up minced pies (25%), followed by Christmas cake (4%) and then Christmas pudding (2%).
The most popular alcoholic drink to serve with mince pies at Christmas is mulled wine (25.2%), followed by Irish cream liqueur (5.1%) and then Irish coffee (4.8%).
The most popular alcoholic drink to serve with Christmas cake is mulled wine (4%), followed by Irish cream liqueur (2.4%) and then Irish coffee (2.3%).
Prosecco trends
** Prosecco has become a rising trend in the UK according to Telegraph feature written earlier this year (article live here: http://www.telegraph.co.uk/finance/newsbysector/retailandconsumer/leisure/10765874/Prosecco-exports-to-the-UK-jump-40pc.html)
Ordering from Waitrose Cellar
No minimum order value.
Drinks from Waitrose Cellar need to be ordered in a case of six which can be selected and pre-mixed from the Champagne, wine, sparkling wine and spirits ranges.
Order online at waitrosecellar.com by 9pm Monday to Friday for collection from your local Waitrose from 2pm the next working day.
Orders placed after 9pm on Friday and before 9pm on Monday will be available for collection from 2pm on Tuesday. Variations to the service may apply around Bank holiday periods.
Customers can also choose to have their waitrosecellar.com purchases delivered free within 3 working days, next/named day delivery for £4.95, or free next/named day delivery for orders over £150.
Call the Waitrose Cellar wine specialists 9am-5pm weekdays for advice and assistance on 03456100304, email specialists@waitrosecellar.com, or tweet @waitrosewine
The John Lewis Partnership is one of the UK's top ten retail businesses with 39 John Lewis department stores and 328 Waitrose supermarkets. The Partnership is Britain's biggest and longest surviving example of worker co-ownership. All 79,700 permanent staff are partners in the business and share in its profits - that's why they care about the customers - and the suppliers - and the future.