Martin Hester, Strategic Consultant at Nuvias, looks at the networking trends that will shape 2018
Security First
Cyber threats are becoming ever more sophisticated and increasing in volume. In addition, remote working or working across multiple sites and multiple devices, together with an increasing reliance on cloud-based applications, have all served to weaken traditional perimeter-based security.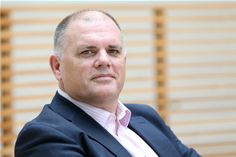 Martin Hester of Nuvias
Traditional firewall technology is no longer enough. Anyone designing or planning a new network deployment in 2018 must adopt a 'Security First' mantra, with security being embedded into the network elements and design.
When a network has security inherently built into it, operates alongside other security platforms, and is managed with consistent, properly enforced policies, it becomes the security defence.
Video demands bandwidth
Organisations are embracing web, video conferencing, and unified communication and collaboration tools to improve productivity among employees. This means enterprises will need to ensure they are building networks with enough capacity to support these new applications.
Bandwidth requirements will continue to increase in 2018, driven by the adoption of advanced video collaboration and applications in the enterprise.
SD-WAN comes of age
Software Defined Wide Area Network (SD-WAN) will finally come of age in 2018, with SD-WAN adoption gathering pace in the enterprise.
The burgeoning technology has shown remarkable growth in recent years with IDC predicting the SD-WAN market will be worth $8 Billion by 2021. It has driven digital transformation projects that deploy cloud, big data and analytics, and mobility – which all increase network workloads and require end-to-end reliability.
NPM and APM growth
The workforce today is mobile, often working across numerous devices, from any location. Employees commonly use applications hosted in the cloud. They expect ongoing availability of whatever network they are connected to. Network management, therefore, can be complex, with the need to manage application and network performance more important than ever.
Network Performance Management (NPM) and Application Performance Management (APM) will become the norm for enterprises in 2018, with a focus on user experience, resolving application and network performance issues proactively and quickly, and improving productivity.
WLAN upgrades
WLAN deployment upgrades will grow faster than ever in 2018, driven by the rapid speeds of 802.11AC and the fast-evolving analytics engines and applications that provide insight and intelligence to end users and devices
In addition, the explosion in Internet of Things (IoT) endpoints will also fuel the growth of WLAN technology. It is estimated there will be 20.4 billion connected things in use worldwide by 2020, and analysts at Dell'Oro predict that there will be an installed base of nearly a billion WLAN network devices within five years, which will be the primary way that most IoT devices connect to networks.
ENDS
For further press information, please contact Annabelle Brown on +44 (0)1326 318212, email pr@nuvias.com
Bio of author
Martin Hester is the Advanced Networking Practice Lead at Nuvias. Prior to Nuvias, he ran EMEA Channels, Alliances and Commercial Business at Juniper Networks, where he held a number of management roles within Juniper's channel organisation.
About Nuvias Group
Nuvias Group is the pan-EMEA, high value distribution business, which is redefining international, specialist distribution in IT. The company has created a platform to deliver a consistent, high value, service-led and solution-rich proposition across EMEA. This allows partner and vendor communities to provide exceptional business support to customers and enables new standards of channel success.
The Group's portfolio covers a comprehensive range of IT solutions, with the focus currently on three areas - Cyber Security (based on the former Wick Hill); Advanced Networking (based on the former Zycko) and Unified Communications (based on the former SIPHON). In July 2017, Nuvias added Benelux value added distributor and security specialist DCB to the Group. All four award-winning companies had previously demonstrated their ability to provide innovative technology solutions from world-class vendors, and deliver market growth for vendor partners and customers. Nuvias Group has 21 regional offices across EMEA, as well as serving additional countries through those offices. Turnover is in excess of US$ 350 million.