LONDON, UK – October 11, 2010 – Top Trumps has joined forces with Moshi Monsters, one of the world's largest and fastest-growing children's online games, to launch a new set of Top Trump cards based on the hugely successful online world.
With 28 million players in more than 150 countries, fans of the game, which allows players to adopt and care for virtual pet monsters, will now be able to enjoy its magical interactive world offline. The new Top Trumps' pack features 30 adorable Moshlings, monster pets, and rates them according to their rarity, cuteness and brains.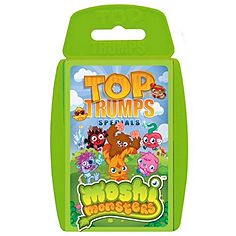 Moshi Top Trumps
The Moshi Monsters Top Trumps are on sale now at leading high street stores and priced at £3.99 making it a perfect pocket-money purchase or an ideal stocking-filler for Christmas.
Fiona Hortopp, Marketing Manager for Top Trumps said: "To be one of the first licensees to market with Moshi Monsters Top Trumps is extremely exciting. This is a great brand to add to our long list of top licenses and with such a huge existing global audience we expect Moshi Monsters Top Trumps to become one of this years must have children's gifts."
Michael Acton Smith, CEO at Mind Candy, the creators of Moshi Monsters, commented: "We are thrilled to team up with such a popular brand as Top Trumps to bring the virtual world of Moshi Monsters to life in a new and fun way."
Stockist information:
RRP. £3.99
Available at:
WHSmith, Tesco, ASDA, Waterstones, Toys R Us and many independent toy and gift retailers, as well as online at: Amazon, Play.com, www.cultandcool.com
ABOUT MIND CANDY
Mind Candy is one of the world's fastest growing social online gaming companies and the global developer, operator and publisher of Moshi Monsters. The company was founded in 2004 by Michael Acton Smith, a UK-based entrepreneur who previously founded Firebox.com.
ABOUT MOSHI MONSTERS
Moshi Monsters is the world of adoptable monsters, combining adorable virtual pets with social online gameplay and educational puzzles for children. The puzzles test a variety of skills including basic maths, spatial awareness, logic, counting, anagrams and vocabulary. Over 28 million monsters have been created to date and over two million new players joining each month making Moshi Monsters one of the world's fastest growing children's sites with one new player joining every second! To date, hundreds of millions of educational puzzles have been played and millions of virtual items sold each day! For more information on Moshi Monsters visit www.moshimonsters.com
ABOUT WINNING MOVES
Winning Moves UK is an independently owned London based games company who own and/or distribute a range of classic game brands such as Top Trumps, Monopoly, Waddingtons Number 1 playing cards, Pass the Pigs and Bananagrams. They also have a wide range of licensed product and are the official Licensee in the games category for London 2012.
For more information visit www.winningmoves.co.uk and www.toptrumps.com
MIND CANDY / MOSHI MONSTERS GLOBAL PR
Edward Relf
Chief Operating Officer
Mind Candy
ed@mindcandy.com
UK PR
Jade Wilkinson
LEWIS PR
moshi@lewispr.com
0207 802 2626
AUSTRALIA PR
Gemma Maughan
LEWIS PR
gemmam@lewispr.com
+61 2 9409 3100
US PR
Megan Kellett
Bender / Helper Impact
mindcandy@bhimpact.com
310-694-3102
WINNING MOVES
Fiona Hortopp
fiona.hortopp@winningmoves.co.uk
020 7298 9502