Onward development and recruitment top 'to-do' list for French company on Santa's 'Good List'!
Toulouse, 14 January 2013 – Mobile software development pioneer, Phonitive, has received a first round angel investment of 400k Euros from Toulouse-based seed investors, Capitole Angels (www.capitole-angels.com), and DP Invest (www.digitalplace.fr). Confirmed and received just in time for Christmas, the huge potential shown by Phonitive's flagship technology, Touchalize™, together with the company's top-class management and development teams, secured the investment deal.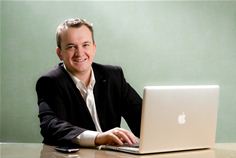 Phonitive CEO
This first round funding will be used for onward development and commercialization activities associated with the Touchalize product, as well as supporting forward R&D of Phonitive's future products, already in the pipeline. Recruitment is also being supported by the funding with a view to bolstering development, marketing and sales teams.
Founder of Capitole Angels, Mr Arnaud de Latude, says, "The capabilities and genius of the Phonitive team inspired us to make this investment. Not only does their flagship product, Touchalize, fill us with confidence, but their forward-looking ideas also make us believe this is a company destined for great things. We want to be along for the ride."
Mr. Jean-Luc Bernard, President of DP Invest, says, "At DP Invest, we like to bet on start-ups with strong potential for growth, and the reception given by the industry sectors in which Phonitive is involved, including advertising, digital media and mobile, points to a bright future for the company. We are very pleased to be part of this initial investment round."
Phonitive's CEO and the inventor of Touchalize, Guillaume Lemoine, says, "We are delighted to have received this crucial first round of funding. It was a wonderful Christmas present! It will enable us to focus on the job at hand, developing Touchalize into a world-beating solution, as well as building our other products, for which gathering the right kind of people together to join the Phonitive family, is essential. Having the 'right' people, in terms of skills and personalities, is very important to us."
Delivering a new and compelling interactive touchscreen experience, Touchalize (www.touchalize.com) allows smart phone and tablet users to engage with mobile advertising, mobile games and other rich digital mobile media, through a method of touch screen interaction never before possible. Touchalize ensured the company was one of 16 finalists in the LeWeb Start-up Competition, in December, out of 500 participants.
The company will be exhibiting at the GSMA Mobile World Congress next month in Barcelona.
-ends-
Notes for editors
About Phonitive: www.phonitive.fr
Toulouse-based Phonitive was formed in 2010 as a future-looking, digital media software and mobile application development company, pioneering solutions for next-generation smart phone and tablet devices running iOS and Android. Its visionary founder, Guillaume Lemoine, sets the company's projects in motion only after looking years ahead to ensure they will have longevity and a place in the digital mobile world of the future. Earlier this year the company was awarded the Digital Economy Grand Prize by the TIC (Technologies de l'information et de la communication) in South-West France for latest digital innovation.
For further information please contact:
Elena Lemoine
Marketing Director
Phonitive
T: (+33) 5 61 57 61 23
M: (+33) 6 68 47 71 88
E: Elena.lemoine@phonitive.fr
For media and analyst enquiries please contact:
Tim Guest
Managing Partner
ATROPOS Communications
T: (+44) 7956 257069
E: tim.guest@atropospr.com