Daily Market Sentiment Report launched – sign up here.
GoldenBoysBet market analyst Martin Linham comments: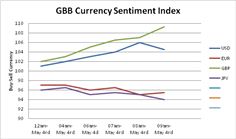 GBB Currency Sentiment Index 04 May
"This morning, punters on the GoldenBoysBet.com platform are frantically betting on Sterling to rise. In the early morning, the Pound benefited from strong demand against the Dollar and the Euro and in the last hour we have started seeing significant purchases against the Japanese Yen.
"The FTSE 100 surprised markets yesterday with its strong performance in the face of falling house prices for the fourth consecutive month. However, the index opened today in negative territory, and players are again putting their money on the FTSE to fall.
"We left the Currency Sentiment Index for GBP at 103.00 yesterday and the current level is now at 109.25 - the highest since the start of the Index, reflecting very dovish sentiment."
One of the most active players on the site, GoldTrader, a former trader commented: "I believe the UK will make it. When I see the burden that the US and Europe have to face in terms of the deficits they have accumulated over the past 4 years, I am quite confident the UK is in the strongest position to implement, in the very fastest terms, the most sophisticated plan to reduce the deficit and create growth while others are in the 'wait and see' position."
In May, punters on GoldenBoysBet.com are just saying CHEERS for the UK!
The index is based on betting behavior of players on currencies on the GoldenBoys financial betting website. A base of 100 suggests that the currency is flat – i.e. players are equally buying and selling.
About:
GoldenBoys makes the financial markets accessible to everyone by providing easy games with great rewards. All the games are based around the financial markets but are simple enough for anyone to enjoy.
Golden Boys is regulated by the Isle of Man Gambling Supervision Commission under a license issued to Golden Boys Bet Limited under the Online Gambling Regulation Act 2001 on 13th May 2010.