Further to the acquisition by 3M in October 2010 of Arizant Healthcare Inc., an innovator in forced-air patient warming solutions, products in the Arizant portfolio will shortly transition to 3M branding. Accompanied by subtle changes to packaging and labelling from the end of May 2011, the products will now be marketed as 3M™ Bair Hugger™ Forced-Air Warming Blankets, 3M™ Ranger™ Blood and Fluid Warming Systems, a market leader in dry-heat blood and fluid warming, and 3M™ Bair Paws™ Patient Adjustable Warming System, the world's first warming gown designed for perioperative use.
"Although the branding, packaging and literature are being updated, customers should be reassured that there are no changes to these proven products, nor their instructions for use" said Manfred Hinz, European Business Manager for Temperature Management. "This move signals that the integration of Arizant temperature management products into the 3M Infection Prevention Division is well on track. Customers will now benefit from an even broader range of 3M infection prevention solutions for optimum pre-, intra- and post-operative patient care, backed by the combined knowledge, reputation and commitment to the customer of both organisations".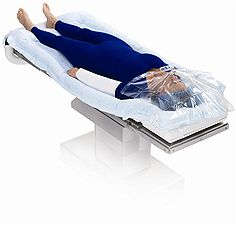 3M™ Bair Hugger™ 635 Underbody Blanket
Arizant created the category of forced-air patient warming with the introduction of Bair Hugger therapy in 1987, and numerous clinical studies have demonstrated its effectiveness in reducing incident rates of hypothermia, a known risk factor in the development of surgical site infections (SSIs). With data showing that at least 5% of patients undergoing surgery develop a surgical site infection and with SSIs comprising up to 20% of all healthcare associated infections[1], their prevalence places a heavy economic burden on healthcare facilities and negatively impacts patient quality of life. The combination of Arizant's temperature management expertise with 3M's proven technologies, including draping solutions with added antimicrobial protection, innovative monitoring products for the sterilization process and hospital hygiene management systems provide hospitals with powerful tools to help prevent surgical site infections.
"In the future, we're looking forward to bringing 'new to the world' products to market to help prevent perioperative hypothermia" said Manfred. "This is integral to 3M's mission of being the hospitals preferred partner as a global expert in infection prevention and, ultimately, to saving patients' lives through reducing healthcare associated infections."

ENDS
For media enquiries, please contact Rosalind Smith, Public Relations Manager, 3M on 01509 613009, email rsmith@mmm.com

Reference 1: NICE guideline 2008: "Prevention & treatment of SSIs".

3M is a trademark of the 3M Company, Bair Hugger, Ranger and Bair Paws are trademarks of Arizant Healthcare Inc., a 3M Company.

About 3M Infection Prevention Division
The 3M Infection Prevention Division offers healthcare professionals leadership solutions to minimise the risks of healthcare-associated infections. Combining science and technology, 3M has introduced more than 40 distinct technology platforms and a comprehensive portfolio of quality products that help the healthcare industry define and address current infection prevention best practices. 3M Infection Prevention remains a trusted partner committed to helping customers lead the way in reducing the risk of infection.
www.3m.co.uk/ip