TravelPerk's brand new business travel product FlexiPerk gives businesses and travelers unprecedented flexibility by making any booking (flight, hotel, car, train) refundable, no matter the cost
Currently in beta, FlexiPerk has been trialled by SumUp, Picnic, and other customers, saving an average of 26% for each business

New product delivers on TravelPerk's mission to bring about a new age of flexibility for the business traveler, following closure of $104 million Series C
Barcelona, 25th July 2019: TravelPerk, Europe's fastest growing online travel management platform, today announces the launch of FlexiPerk, a ground-breaking new product that gives business travelers unprecedented flexibility to cancel and get a refund on any booking—hotel, trains, Airbnb, cars, and flights including Ryanair and easyJet—at any time, for any reason. Something that no other provider has done before.
Following the completion of TravelPerk's $104 million Series C announced earlier this month, FlexiPerk is the next major step in TravelPerk's growth and innovation strategy. It brings a new level of disruption to the pricing structure of an industry that is still dominated by outdated solutions that make business travel unnecessarily expensive and painful for both traveler and company.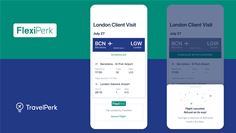 FlexiPerk
Traditional travel has always been anything but flexible. From complex airline fee structures to unfriendly refund policies, it's built around travel plans staying the same. Most business travelers have experienced this first-hand, and as a result have also experienced the stress and expense of unpredictable schedules.
Changes or cancellations are often unavoidable in a fast-paced business: according to TravelPerk's own data, more than 20% of business trips are subsequently postponed, rearranged, or cancelled. Historically, businesses that want to make changes to trips have been forced to choose between expensive "flexi-fares" offered by corporate travel providers (on average 60% more than standard fares), or complex and time-consuming refund processes. FlexiPerk solves that problem by automatically making every booking refundable, at a fraction of the cost.
FlexiPerk is the only product of its kind in the corporate travel market, giving business travelers absolute freedom while delivering significant savings for businesses. By adding a small fee to your booking upfront customers can avoid flexible fares and last-minute cancellation costs, instead receiving a guaranteed minimum 90% refund on any cancelled booking. There's no need to read through complex refund policies, or fill out any online forms - with one click, TravelPerk will cancel the booking and process the refund, no questions asked.
FlexiPerk has already been tested by a number of TravelPerk customers, including SumUp and Picnic. These customers have seen significant financial benefits with savings of, on average, 26% compared to the cost of flexible fares and last-minute cancellation fees.
Matabato Kimani, Head of Operations at London-based SumUp, added:
"At SumUp, our team has grown incredibly quickly and we now have 15 offices across 3 continents. This means that our team is travelling more than ever, often long haul flights and at short notice due to changing business needs. Using FlexiPerk has meant that we can focus on continued innovation in the financial space, rather than worrying about the cost of changing our travel plans."
Elise Baeriswyl, People Associate at Picnic commented:
"At Picnic, we're growing really fast and have a truly international team with people flying in from around the world. But growing so quickly means plans change all the time. Before FlexiPerk, we had to either pay expensive changeable fares or go through the headache of getting refunds from airlines. Now we can book anything with the peace of mind that we'll get our money back if plans change."
Avi Meir, CEO and Co-Founder of TravelPerk, said:
"We believe that the launch of FlexiPerk is the biggest development in the business travel industry in more than a decade. It marks a change in the status quo of business travel's pricing structure - and is a key development in our long-term strategy, which is focused on not just playing catch up with the flexibility and convenience of consumer travel - but actually surpassing it. We are delighted with the feedback from early customers and are excited to be bringing FlexiPerk to the wider market as part of our mission to make every stage of business travel as seamless as possible."
Anyone who has booked a business trip will know the pain and stress that comes when you need to make any kind of change to your booking, and the frustration of having to choose between expensive flexi-fares, or arduous refund processes. FlexiPerk simplifies this by making everything refundable. It gives travellers ultimate freedom and flexibility, and takes the risk and hassle out of companies' business travel program.
Currently in beta, businesses can sign up for the FlexiPerk program at www.travelperk.com/flexiperk
-ENDS-
About TravelPerk
TravelPerk is the next-generation business travel platform pioneering the future of business travel. TravelPerk's all-in-one platform gives travelers the freedom they want whilst providing companies with the control they need. The result is saved time, money, and hassle for everyone.
TravelPerk has the world's largest travel inventory alongside powerful management features, 24/7 customer support, state-of-the-art technology and consumer-grade design, all of which is enabling companies worldwide to get the most out of their travel.
Backed by world-class investors like Kinnevik, Target Global, Felix Capital, Spark Capital, Heartcore, LocalGlobe, Amplo, 14W—investors in some of the most disruptive companies in tech including Zalando, Slack, Trello, Twitter, Farfetch and Delivery Hero — TravelPerk is reinventing business travel with an end-to-end solution that works. Visit https://www.travelperk.com/ for more information.