Villas in Tuscany specialists Tuscany Now has today announced the launch of its interactive map of Tuscany, a new online resource that aims to unearth the discovery of the hidden gems of one of Italy's most popular regions. Tuscany Now has been offering handpicked luxury villa rentals to its clients for over 20 years and created the map to share both their expertise and their customers' detailed knowledge of Tuscany.
The map allows users to search for a particular location and discover all of the best things to do in that area. Suggestions are grouped into food and drink, arts and culture, day trips, historic, shopping and sports and active. There are also tags available to show recommendations that are particularly family friendly, accessible or romantic. Tuscany Now has also mapped out the locations and details of all of the villas it offers in its portfolio. This enables users to handpick the villa best suited to their interests and create their own personal itinerary of the best things to see and do.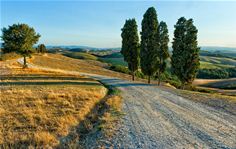 Beautiful Tuscan scenery
Simon Ball, Managing Director at Tuscany Now commented:
"Tuscany is a vast region with so much to explore; if you're visiting for the first time or are a regular visitor then we hope that our map will shed light on some of Tuscany's greatest delights. One of the most important elements is that users have the ability to add 'hidden gems.' Everyone knows the Duomo in Florence and the Leaning Tower of Pisa but we want to know about that fantastic local restaurant you went to, the historical ruins that weren't in the guidebook or the most romantic view from a hilltop. The map is designed to be as intuitive and useful as possible for anyone travelling to Tuscany and the great thing is that it will continue to grow in authority as more and more people add their suggestions."
Users who pin their favourite place on the Tuscany Now map and leave a review will be automatically entered into a prize draw. One entry will be drawn at random every week to win a 2 bottle case of Tuscan wine and once a year one entry will be drawn at random to win a week's stay for two people in the villa L'Orto di Alice.
-ends-
Notes to editors
For the past 24 years Tuscany Now has been offering handpicked luxury villa rentals to its clients worldwide. To ensure a high standard across its portfolio of properties, all of its villas are exclusive to Tuscany Now and each member of the sales team has an intimate knowledge of every property. The luxury villas all come complete with a private swimming pool and the company will tailor holidays by offering the options of a full concierge service, chauffeurs, shopping services, cook-in chefs, weddings and spa services.
For press enquiries please contact:
Stephen Baker at stephen@propellernet.co.uk or by calling 01273 760 988