One central hub to discover and access movies, series and programmes from Netflix, iTunes, Sky Go, Channel 4 and the BBC
Tviso allows its users to discover and browse through the catalogues of the main UK VOD providers
Tviso is a free service that saves time and money
London, February 22, 2017 - Tviso, the next generation TV guide, is available as of today in the United Kingdom. Tviso is a new way to watch television - one central hub that allows users to discover and access movies, series and programmes from the main VOD providers. Tviso is an indispensable service for the new television as online video keeps growing and becomes increasingly disaggregated. Tviso helps users to navigate between all available content sources making it easy to create personalised watchlists, so they don't waste time deciding what to watch.
By selecting content sources - Pay-TV packages, subscriptions to VOD platforms or other online platforms -, Tviso starts sending personalised recommendations. Tviso is also designed for users to get the most out of these platforms. It informs about the latest releases added, the most watched or the films and series that are trending at that moment.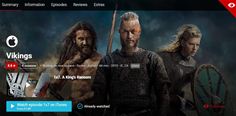 Series Screenshot
As of today, Tviso displays content from Channel 4, Channel 5, ITV Player, Youtube, Netflix, iTunes, Google Play, Sky Go, Now TV and Wuaki.tv among others. The service will soon include Amazon Prime Video and will continue adding providers during the next few months. It also provides a price comparison service, so its users can find the most suitable option.
Tviso allows a search across all audiovisual libraries at once and enables users to add these titles to their watchlist. The titles of each users' watchlist can be filtered by movies, series, programmes, documentaries, pending or watched, so they are in control over what they watch.
TV show fans can mark already seen episodes and receive push notifications when new episodes are available, or if they prefer to binge-watch, when new seasons are released.
Tviso is now available in the UK on the web and will soon be on TV set top boxes, iOS and Android smartphones. The service is working to add the complete list of online content available across the United Kingdom.
Tviso, a start-up based on innovation
Founded in 2014 by David Tardà, Andreu Caritg and Oriol Solé in Barcelona, Tviso has more than 500.000 active users who employ it to organize their watchlist and to access their movies and favourite series and programmes.
Tviso has always bet on technology and innovation to provide solutions to access content on the Internet, giving their community collaborative tools to generate one of the largest audiovisual databases available worldwide.
More information:
Tviso
https://uk.tviso.com/
What's Tviso?
https://vimeo.com/124300638
Trending medias:
https://uk.tviso.com/watch-movies
https://uk.tviso.com/watch-series
https://uk.tviso.com/watch-tv-shows
Content Providers Catalogues:
Netflix catalogue in Tviso
https://uk.tviso.com/catalogo-netflix
Channel catalogue in Tviso
https://uk.tviso.com/catalogo-channel4
Channel 5 catalogue in Tviso
https://uk.tviso.com/catalogo-channel5
ITV player catalogue in Tviso
https://uk.tviso.com/catalogo-itv
Youtube catalogue in Tviso
https://uk.tviso.com/catalogo-youtube
iTunes catalogue in Tviso
https://uk.tviso.com/catalogo-itunes_uk
Sky Go catalogue in Tviso
https://uk.tviso.com/catalogo-skystore
Now TV catalogue in Tviso
https://uk.tviso.com/catalogo-nowtv
BBC Player catalogue in Tviso
https://uk.tviso.com/catalogo-bbc
Graphic assets: https://www.dropbox.com/sh/ita0yllqxvbk1n1/AAA7kAOjmuujfR7dZBr0U657a?dl=0
Press kit: https://www.dropbox.com/s/j6rb97odd6htnu9/PressKit_Tviso_UK.pdf?dl=0
Press Contact:
beatriz@tviso.com
Tel: 93 624 30 42
Mob: +34 660 331 143