NPT-UK's annual industry report reveals grants to charities reach all time high
LONDON – The 2017 UK Donor-Advised Fund Report shows grants from donor-advised fund accounts to charities reached £276.7 million, a 14.1 percent increase from the prior year. Total assets available for grantmaking increased to £1.1 billion, a 7.6 percent year-on-year increase. Contributions to donor-advised fund accounts increased 22.5 percent to £353.6 million.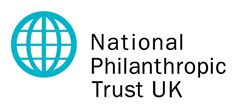 National Philanthropic Trust UK logo
"One thing is clear, donor-advised funds are a major factor in the philanthropic sector," said John Canady, CEO of NPT-UK. "Every pound in a DAF account is destined for charitable organisations and these record highs are good news for charities and their beneficiaries. Despite the economic uncertainty surrounding Brexit, donors who use donor-advised funds continue to allocate capital to philanthropy and support charitable causes and the public good."
Canady continued, "Looking forward, we predict this growth trend will continue. Advisors are increasingly aware of these types of charitable giving vehicles and integrating them into their client planning. Donors appreciate that they can give globally with confidence that the DAF sponsor is handling all the due diligence and compliance. And donors appreciate the privacy that the donor-advised fund provides."
A donor-advised fund is like a charitable savings account. Donor make contributions to their fund, receive immediate tax relief, and make grants to their favourite charities over time.
NPT-UK is a UK-registered charity dedicated to increasing philanthropy in society. NPT-UK offers donors-advised fund accounts to donors who wish to manage their giving over time and designated funds for donors who want to make one-time gifts. NPT-UK is a UK/US dual qualified charity. Donations to NPT-UK are recognised for tax purposes in both countries simultaneously.
NPT-UK is affiliated with National Philanthropic Trust (NPT) in the United States. NPT was founded in 1996. Since that time, NPT has raised $8 billion in charitable contributions and currently manages $4.6 billion in charitable assets. It has made more than 186,000 grants exceeding $4.3 billion to charities all over the world. NPT ranks among the 25 largest grantmaking institutions in the United States. NPT publishes the most comprehensive data on US donor-advised funds in their annual report 2017 US Donor-Advised Fund Report.
FOR MORE INFORMATION: Kathryn Adamson, Kadamson@npt-uk.org http://www.npt-uk.org/ Tel: +44 (0)800 133 7540
- ENDS -