Shoppers are buying more items than they plan to keep when shopping online
London, UK, 26th October 2012 – Two in five consumers (41%) buy multiple sizes of the same garment when shopping online, just to check the fit – and then send the 'wrong ones' back, according to a new survey from Fits.me, the online virtual fitting room provider. Women (49%) are more likely than men (31%) to engage in the practice of ordering more sizes than they intend to keep.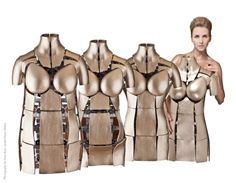 Fits.me for women
The survey was commissioned to highlight the enormous costs to retailers of not providing customers – who are buying online rather than on the high street in ever-increasing numbers – with an online alternative to the ever-popular in-store fitting room.
According to Fits.me's own data, the main reason for returning items bought online is that the size did not fit (43%), followed by the feel of the fabric (25%), and then the style of the garment (15%). According to the research, over one in ten (12%) of consumers report they 'never buy online because of sizing concerns' and a further 61 per cent said that they hesitate before making a purchase online due to sizing concerns.
Additional findings from the research include:
Over half of consumers (60%) won't consider making a purchase online unless returns were free

12 per cent of those surveyed say they have ordered multiple sizes online in order to check the fit and then forgotten to return the items they didn't want

One in ten consumers (11%) report that they have even returned online purchases that they have worn
Heikki Haldre, founder and chief executive of Fits.me, commented: "Consumers don't trust the sizing information they see online, and with good reason: there are no universal sizing standards, and sizing may vary considerably even within a single retailer. And there's no way they can physically try on the garment. They're learning that the 'free returns' offered by retailers works to their advantage; it means they can order multiple sizes but return the one or more that they don't want.
"However returns cost retailers enormous sums of money; not just the transportation of it, but the re-warehousing of the garment and, often, its subsequent discounting for resale. This is already a problem for retailers; as the proportion of people shopping online grows and more people twig to the fact that they can send back unwanted items with no penalty, it's going to get a lot worse – unless and until retailers deploy virtual fitting rooms," he said.
A recent study of conversions and returns at shirtmaker Hawes and Curtis showed that its virtual fitting room was responsible for an improvement in conversion rates of 57 per cent for first-time customers, and a 35 per cent fall in its overall garment return rates.
- ENDS -
About the research
Fits.me surveyed 1,000 UK consumers on their shopping habits. The data was collected by Redshift Research.
Notes to editors
Fits.me's virtual fitting room solutions helps boost the profitability of online clothing retailers by enabling them to overcome what Mintel (Online Fashion, March 2012) describes as "the biggest obstacle facing them": the fact that it is impossible for online shoppers physically to try on garments before buying.
Fits.me uses a sophisticated robotic mannequin – FitBot – with artificial muscles that enable it to mimic the shape and size of any body type. For any given brand or retailer, FitBots are photographed at high speed in thousands of permutations of body shape, while dressed in that brand/retailer's key garments, in each available size. Then, on the brand/retailer's site, Fits.me is able to display for online shoppers the key garment pictures that correspond to their exact body size and shape after asking for just a few basic measurements.
Knowing exactly how clothes fit gives customers confidence to buy, improving conversion rates and decreasing returns. Data from online clothing retailers using Fits.me shows an improvement in conversion rates of 57% compared to shoppers using a traditional size chart, and a reduction in returns due to customers buying an incorrect size of up to 35%.
About Fits.me
Fits.me counts many well-known retailers among its customers, including Barbour By Mail, Boden, Ermenegildo Zegna, Gilt Group, Hawes & Curtis, Otto, Pretty Green and Thomas Pink. Fits.me has won numerous awards for its virtual fitting room technology and was named by Vogue magazine in its 2012 Online Fashion 100 as one of the most influential names in digital fashion.
For latest news, comment or information, follow ItFits_Me on Twitter.
Media contact
Eleanor Armitage, Hotwire PR for Fits.me
eleanor.armitage@hotwirepr.com
+44 (0)20 7608 2500