London – 27 June 2017 – UKCloud, the easy to adopt, easy to use and easy to leave assured cloud services company, has been named SME Digital Leader of the Year at the 2017 Digital Leaders (DL) 100 Awards. The award was presented to UKCloud CEO, Simon Hansford, and members of the team at a ceremony in central London on Thursday 22nd June 2017, which was attended by digital pioneers from across the UK's public, private and non-profit sectors.
The DL100 Awards honour the highest digital achievements of the past year, celebrating teams and individuals who are blazing a trail within the space. The Digital SME of the Year category recognises the contribution being made by small and medium sized organisations in developing digital services and products that underpin the UK's economic growth. UKCloud was awarded the accolade as an organisation that has delivered direct impact in the UK public sector in the last 12 months.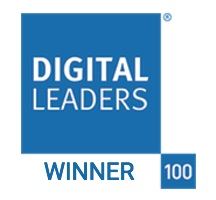 DL100 Award Winner
"We're thrilled to receive this award in recognition of our ongoing commitment to supporting digital innovation in the public sector," said Simon Hansford, CEO of UKCloud. "Our dedicated team and award winning platform have contributed to countless initiatives including several Cabinet Office Digital Exemplar projects and the 100,000 Genomes Project. We're proud to receive such prestigious industry acknowledgement of our successes to date."
This latest award win closely follows UKCloud's first Queen's Award for Enterprise for Innovation. The Innovation category awards companies that go above and beyond in their area of expertise, and is designed for those offering a unique innovation. In recent months, UKCloud also won two awards at the 2017 UK Cloud Awards and was ranked number one in the latest Sunday Times Hiscox Tech Track 100, which lists Britain's fastest growing private technology companies based on sales over the past three years.
For more information about the DL100 Awards, please visit: http://www.digileaders100.com/
- ends -
About UKCloud
UKCloud is dedicated to the UK Public Sector. We provide assured, agile and value-based true public cloud that enable our customers to deliver enhanced performance through technology.
We're focused on cloud. Delivering a true cloud platform that is scalable, flexible, assured and cost-effective.
We're open. You are never locked in. Using industry standards and open source software we enable flexibility and choice across multiple cloud solutions.
Dedicated to the UK Public Sector. Our business is designed specifically to serve and understand the needs of public sector organisations.
We develop communities. We bring together communities of users that are able to share datasets, reuse code, test ideas and solve problems.
Customer engagement. We will only be successful if our customers are successful. We embody this in the promise: Easy to adopt. Easy to use. Easy to leave.
Additional information about UKCloud can be found at www.ukcloud.com or by following us on Twitter at @ukcloudltd
UKCloud. The power behind public sector technology.
Media Contacts
Caitlin Mullally/Charlotte Martin
Finn Partners
+44 (0)20 3217 7060
UKCloudteam@finnpartners.com