The Ronald Reagan Missile Defense Test Site in the North Pacific has installed ViaLite RF over fiber to link the command center with remote antennas used to monitor the last minute before splash-down. Testing, switching frequencies or changing antenna direction previously required an engineer to fly out by helicopter. Now all these tasks can be performed remotely from the command center using the links installed by MIT Lincoln laboratory.
Traffic and control signals
Located in the Kwajalein Atoll in the North Pacific Ocean, the Ronald Reagan Ballistic Missile Defense Test Site (RTS) functions as a test facility for U.S. missile defense and space research programs. Antennas are located on the uninhabited islands of Illiginni and Gagan. Traffic signals from these antennas are now carried by ViaLite wideband RF over fiber links. The wideband links cover all required frequencies thus minimizing the equipment needed at the remote sites. Serial digital links enable testing and control of the antennas to be performed remotely from the command center.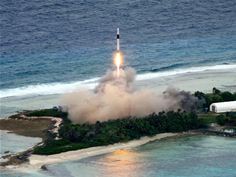 Launch of SpaceX orbital carrier rocket Falcon 1 from Omelek Island
CWDM multiplexing
The system uses CWDM multiplexing to carry 14 signals on a single fiber. When required, engineers can analyze raw signals by attaching a spectrum analyzer to the test ports of each ViaLite rack module.
About the test site
The Kwajalein Atoll consists of 97 islands and islets which surround one of the largest lagoons in the world. Eleven of the islands form part of the Ronald Reagan Ballistic Missile Defense Test Site. The site was previously known as the Kwajalein Missile Range. RTS performs ballistic missile and missile-interceptor testing and space operations support. One of the ground stations used to control the GPS navigation system is also located in Kwajalein.
About ViaLite Communications:
ViaLite Communications is a division of Pulse Power and Measurement (PPM) Inc. The company designs and manufactures RF over fibre links for satellite communication, broadcast, public safety and defense applications. PPM also manufactures equipment for specialist test and measurement applications such as aircraft EMC and high energy physics under the brand name PPM Test.