Specialist burns consultant says new approach benefits both patients and clinicians
BRACKNELL, UK. 16th JANUARY 2018 - The effective treatment of patients suffering from debilitating pressure ulcers, burns and other wounds is being revolutionised by new 3D imaging software that runs on rugged Panasonic Toughpad tablets and has been developed by Swansea-based health informatics company GPC.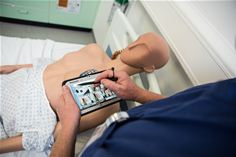 GPC 3D WoundCare software and Panasonic rugged tablets
This latest 3D WoundCare solution easily captures and accurately measures a 3D image of any ulcer or burn wound using a unique photo taken by the Panasonic tablet. This fast and simple system replaces the outdated practices, used by the NHS and clinicians around the world, of measuring ulcers with a ruler or calipers or drawing around them to check for changes - but not routinely measuring the volume of the ulcer.
Crucially, the WoundCare application is able to instantly calculate the depth, as well as the surface area of the injury; and it is this depth calculation that is most important to clinicians when assessing the risk to the patient, identifying trends and checking the healing progress.
"With the annual cost of ulcer care for the NHS at more than £5 billion, this effective and relatively inexpensive use of new technology can transform the way clinicians deal with one of the most common and difficult everyday challenges," said Ian Wiles, Medical Director at GPC.
"The NHS' own statistics show that it is dealing with more than 2,000 new pressure ulcers*, commonly known as bed sores, per month; alongside numerous burn, arterial and venous ulcers, as well as other wounds. This solution is faster, more accurate, mobile and can be used by anyone – not just trained medical staff."
Running on a lightweight, yet rugged Panasonic Toughpad FZ-M1 Standard tablet with an integrated Intel RealSense 3D camera, the 3D WoundCare software captures the ulcer image using a simple point and click process. The software ensures the image is in focus and taken at the right distance away from the ulcer for accurate measurement. Results are then automatically measured, recorded and can be graphically displayed to help clinicians review progress and spot trends. Using the tablet, digital images can also easily be sent to medical experts, based at other locations, for review. The solution also has simple interfaces to Electronic Medical Records systems and GP systems.
Professor Steven Jeffery, Burns and Plastics Consultant Surgeon at the Queen Elizabeth Hospital in Birmingham, is using the solution when treating burns victims and his input has been invaluable in developing the software.
"The ability to determine the size and depth of a wound without having to actually touch it is very useful to both the clinician and the patient," said Professor Jeffery. "The potential for cost savings by changing interventions earlier, reducing dressings and clinical resources and delivering better patient outcomes will be significant. Further cost savings could result from remote monitoring and diagnosis of wounds in the community."
"The camera, tablet and software is simple to use, and any clinician can be trained to use it, with very little experience in burns or wound care required. It is a cheap and efficient adjunct to training a doctor, nurse or paramedic to assess the size of any wound including burns. We also feel this has significant implications for assessment in the Emergency Department, in military medicine and in pre-hospital care."
The 3D WoundCare solution is also being used in Scotland and Wales, as well as internationally in Canada, Australia and Taiwan. Following these successful trials, the solution will be available to buy from February 2018.
"The Panasonic Toughpad FZ-M1 Standard tablet, with its ergonomic yet rugged design, is one of the first devices to integrate the Intel 3D RealSense camera and is the ideal device for use with this type of innovative, healthcare application," said Daniel Creasey, Panasonic Toughbook Healthcare Business Manager. "Panasonic's Toughpad tablets are proven to stand up to the everyday knocks, drops and demands of medical use both inside hospitals, clinics and doctors surgeries or out in the community."
For more information about GPC's 3D WoundCare visit: www.gpcsl.com
For more information about Panasonic Toughpad tablets visit: www.toughbook.eu
*Public Health England: https://www.gov.uk/government/publications/pressure-ulcers-applying-all-our-health/pressure-ulcers-applying-all-our-health
For more information about the case study visit: http://business.panasonic.co.uk/computer-product/force-download/191965/queen-elizabeth-hospital-birmingham.pdf
Press contact:
Michael Bartley
The Amber Group
michael@ambergroup.net
+44 (0)118 949 7750
About GPC
GPC is an award-winning software house with over 25 years of experience working with healthcare and law enforcement organisations all over the world. We have a unique ability to take state of the art consumer technology and, through innovative software, apply it to health and policing.
Backed by founders with extensive expertise in these spaces our clients can be assured of high levels of satisfaction. We are driven by the needs of our customers. In healthcare, to improve care through the most efficient use of resource and in policing to enable forces to achieve more with less. We work with carefully chosen partners that enable us to support our business with the best infrastructure and to ensure that customers are locally supported by people who understand their organisations.
About Panasonic System Communications Company Europe (PSCEU)
Panasonic System Communications Company Europe's (PSCEU) goal is to improve the working lives of business professionals and help their organisations' efficiency and performance through world leading technology. We help organisations capture, compute and communicate all sorts of information: image, voice, and textual data. With around 350 staff, engineering design expertise, global project management capability and a large European partner network, PSCEU offers unrivalled capability in its markets.
PSCEU is made up of six product categories:
Broadcast & ProAV offers high quality products and solutions to ensure smooth operation and excellent cost-performance to end-users in the areas of remote camera solutions, switchers, studio camera solutions and ENG P2. The VariCam line-up of professional digital video cameras are capable of true 4K and High Dynamic Range (HDR) which makes them the ideal solution for cinema, television, documentary and live event production.
Communication Solutions offer world leading communication solutions including professional scanners, telephony systems and SIP terminal devices.
Computer Product Solutions help mobile workers improve productivity with its range of Toughbook rugged notebooks, Toughpad business tablets and electronic point of sales (EPOS) systems. As European market leaders, Panasonic Toughbook had a 67% revenue share of sales of rugged and durable notebooks and Panasonic Toughpad held a 56% revenue share of sales of rugged business tablets in 2016 (VDC Research, March 2017).
Industrial Medical Vision provides applications for various segments such as medical, life science, ProAV or industrial. The product portfolio includes complete and OEM micro camera solutions. End-users, system integrators or distributors can choose from a range of full product solutions and component vision technology.
Security Solutions, including video surveillance cameras and recorders, video intercom systems and intruder alarms.
Visual System Solutions, including projectors and professional displays. Panasonic offers the widest range of Visual products, and leads the European high brightness projector market with a 37.20% market revenue share (Futuresource >5klm (FY16 April 2015 - March 2016, excl. 4K & digital cinema).
About Panasonic
Panasonic Corporation is a worldwide leader in the development of diverse electronics technologies and solutions for customers in the consumer electronics, housing, automotive, and B2B businesses. Celebrating its 100th anniversary in 2018, the company has expanded globally and now operates 495 subsidiaries and 91 associated companies worldwide, recording consolidated net sales of Euro 61.711 billion for the year ended March 31, 2017. Committed to pursuing new value through innovation across divisional lines, the company uses its technologies to create a better life and a better world for its customers. To learn more about Panasonic: http://www.panasonic.com/global