Cost-effective and versatile storage solution gives customers a two-in-one result
Corby, UK, 4 October 2018 – Ultima Displays, Europe's leading one-stop solutions and hardware provider has today launched Zenith - a brand new, multi-purpose, storage case that accommodates popups or stealth tension banner systems.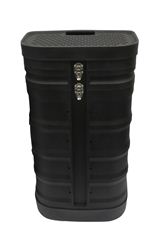 Zenith Tall
The lockable, heavy-duty wheeled case can also house multiple products in one case, making transport to events easier. Additional flexibility is provided with an optional wooden top that can be added and with a graphic wrap allowing the case to be converted into a usable counter for exhibitions and trade shows.
"At Ultima Displays, versatility is key. We are continually developing our product collections to enable us to offer the most cost-effective, innovative and multifunctional products to our trade partners," said Mark McCleery, Managing Director at Ultima Displays. "Zenith is more than just a case; the optional wooden top transforms the case into a solid counter to welcome guests to any booth or stand. In addition, iPads can also be secured to the counter top to promote a more interactive and engaging experience."
Made from durable polyethylene, Zenith cases have side handles for easy lifting and a removable divider that separates the graphics and the hardware. In addition, the separate padded compartment ensures that up to two LED lights and cables are safely stored and protected.
"Zenith is the perfect addition to our product range – the internal capacity of the case can be increased simply by purchasing a 100mm extension feature," continued McCleery. "The extension enables the case to fit roller banners up to 850mm so regardless of the product, the customer can be assured that their equipment can ship safely in one case."
Please click here for more information about the Zenith https://www.ultimadisplays.co.uk/WhatsNew/. For further information about Ultima Displays, please visit http://www.ultimadisplays.co.uk/.
ENDS
About Ultima Displays
Founded in 1999, Ultima Displays provides products and services including roller and tension banners, POS signage, backwalls, modular solutions, cases, lighting and counters. Its printing capabilities covers dye-sublimation and UV work for dealers. It is part of the P3 Group, which has a $130million turnover for its global one-stop-shop operations.
With companies across Europe, Ultima Displays can provide support and supply that is tailored to local market needs. Ultima Displays currently operates from UK, France, Italy, Poland, Spain and Portugal, while also servicing all other EU export markets from the UK, France, Italy and Poland. Ultima Displays also has sister companies in the USA (Orbus Inc.) and Canada (Ultima Displays Canada).
Media contact
For more information please contact Mike Shields by emailing ultima@proactive-pr.com or by calling +44 1636 704 888.